Vegan
Roasted Apple and Squash Soup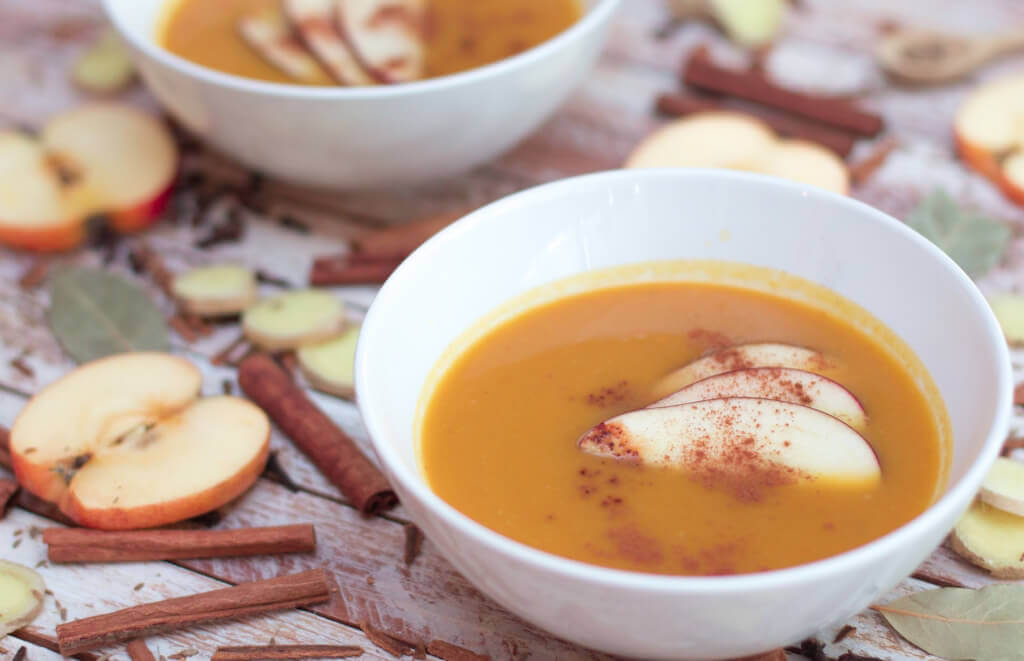 Print
Ingredients
4

green apples, peeled and cored, plus more for garnish

2 Tbsp.

olive oil

1

onion, diced

1

clove garlic, minced

2 lbs. (8 cups)

red kuri squash, cut into 1/2-inch cubes

2

carrots, sliced

1

celery stalk, sliced

1 Tbsp.

brown sugar

1

bay leaf

1/2-in. piece

ginger, grated

1 tsp.

ground cumin

1/4 tsp.

ground coriander

1/8 tsp.

ground cinnamon, plus more for garnish

1/2 tsp.

chili powder

Pinch ground cloves, plus more for garnish

1 1/2 cups

fresh apple cider

2 cups

low-sodium broth

2 cups

water

2 tsp.

salt

Pepper, to taste
Instructions
Preheat the oven to 400°F.
Place the apples in baking dish and roast for 20 minutes.
In a large pot, heat the olive oil over medium-low heat. Add the onions and garlic, cooking till tender, about 5 minutes.
Add the squash and cook, stirring occasionally, until soft, about 10 minutes.
Add the remaining ingredients. Chop the roasted apples and add. Bring to a boil, then reduce to a simmer and cook until the vegetables are very soft, about 30 minutes.
Purée in batches in a food processor until smooth, then return to the saucepan. Heat over low heat, thinning with more water, if necessary.
To serve, ladle into shallow bowls and garnish with sliced apples, freshly ground cinnamon, and a pinch of ground cloves.
Try not to dive in.
Makes 12 servings
Adapted from
A Vegan Survival Guide for the Holidays
. Like this recipe? Download the
free e-book today
!