Vegan
Potato and "Bacon" Hash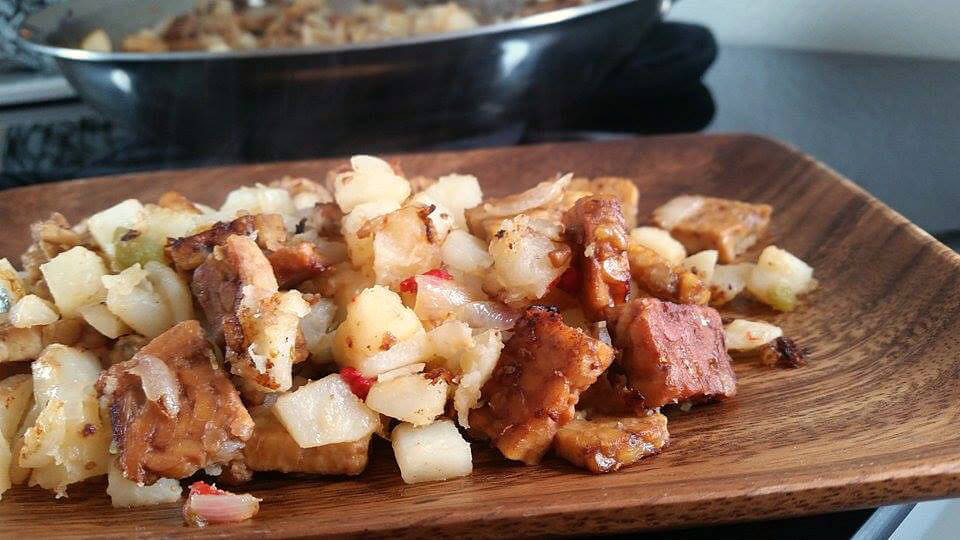 Print
Ingredients
4

medium white potatoes, diced

4 Tbsp.

olive oil, divided

8 oz.

tempeh, cut into 1/2-inch cubes

2-3 Tbsp.

soy sauce, divided

2-3 Tbsp.

liquid smoke, divided

1

onion, diced

Salt and pepper, to taste
Instructions
Place the potatoes in a medium pot, cover them with water, and bring to a boil over medium heat. Boil the potatoes for 10 to 15 minutes or until they are tender. Drain the potatoes, run cold water over them, and allow them to cool.
Meanwhile, in a small skillet, heat 1 Tbsp. of the olive oil over medium heat. Add the tempeh and sprinkle it with half the soy sauce and half the liquid smoke. Cook the tempeh until the liquid is absorbed, flip the pieces over, and sprinkle them with the remaining soy sauce and liquid smoke. Cook for several minutes—until the tempeh is crispy. Set aside.
In a large skillet, heat the remaining 3 Tbsp. of olive oil. Add the onion and potatoes and cook, stirring occasionally, for approximately 10 minutes. Stir the tempeh in, add the salt and pepper, and serve hot.