Vegan
Portobello Gyros with Hemp Seed Tzatziki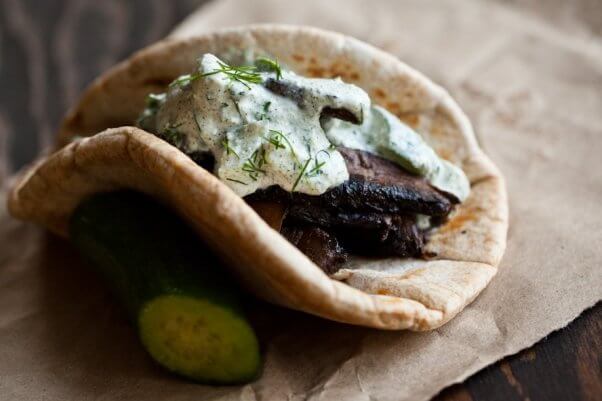 Print
Ingredients
2 Tbsp.

vegan Worcestershire sauce

1 tsp.

cumin

1 tsp.

maple syrup

2

portobello caps, sliced

1 cup

hemp seeds

2 Tbsp.

tahini

2–3

cloves garlic, minced

Juice of 2 lemons

4 Tbsp.

water

1 Tbsp.

chopped fresh mint

1 Tbsp.

chopped fresh parsley

1 Tbsp.

chopped fresh dill

2

pitas

Optional toppings: diced tomatoes and onions
Instructions
Whisk together the vegan Worcestershire sauce, cumin, and maple syrup.
Pour over the portobello slices and stir until evenly coated. (Or put in an airtight container and shake.) Let sit for 15 minutes.
In a blender or food processor, blend the hemp seeds, tahini, garlic, lemon juice, and water until smooth and creamy, adding additional water if needed. Transfer to a bowl and stir in the herbs and cucumber.
Sauté the mushrooms for 4 to 5 minutes in water or oil, stirring often. Remove from the heat and let cool for 2 to 3 minutes.
Warm the pitas in a skillet for roughly 10 seconds on each side. Divide the portobello pieces between the two pitas and top each with half of the tahini sauce. Add diced tomatoes and onions, if desired. The gyros will keep in an airtight container in the fridge for 3 to 4 days.
Makes 2 gyros
[peta-facebook url="https://www.facebook.com/carrotsandflowers/videos/1779534682336657/" width="500″ data-show-text="true" type="video"]
Recipe adapted from Carrots and Flowers.