Vegan
Peanut Butter Oatmeal Cookies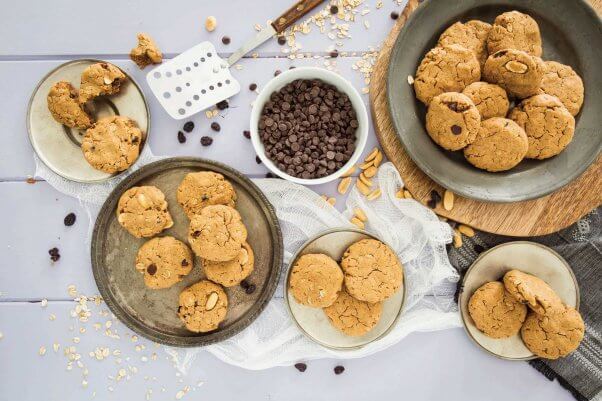 Print
Ingredients
1 cup

unbleached all-purpose flour (or gluten-free flour blend, soy-free if necessary)

1 cup

rolled oats (certified gluten-free if necessary)

1 tsp.

baking soda

1 tsp.

ground cinnamon

1/2 tsp.

salt

1/2 tsp.

xanthan gum (exclude if using all-purpose flour or if your gluten-free blend includes it)

1/4 tsp.

ground nutmeg

1 cup

unsalted and unsweetened natural peanut butter

1/2 cup

maple syrup

1/3 cup

unsweetened applesauce (or mashed banana)

1/4 cup

coconut oil, melted

1/4 cup

coconut sugar, optional

1 tsp.

vanilla extract

1/2 cup

raisins, chopped peanuts, and/or vegan chocolate chips (optional)
Instructions
Preheat the oven to 350°F (180°C). Line two baking sheets with parchment paper or silicone baking mats.
In a large bowl, whisk together the flour, oats, baking soda, cinnamon, salt, xanthan gum (if using), and nutmeg until fully incorporated.
In a medium bowl, combine the peanut butter, maple syrup, applesauce, coconut oil, coconut sugar (if using), and vanilla. Stir until combined.
Add the wet ingredients to the dry ingredients and stir until combined. If you're using add-ins, fold them in.
Scoop a heaping tablespoon of dough out of the bowl, roll it in your hands to make a perfect ball, and place it on the baking sheet. Repeat with the remaining dough, spacing the balls 1 inch (4 cm) apart. Use your fingers to gently flatten each ball just a bit.
Bake for 10 to 12 minutes, until firm and slightly golden along the bottom. Let the cookies cool on the baking sheets for about 5 minutes before transferring them to a cooling rack. Cool completely before serving. The cookies will keep, stored in an airtight container (in the fridge if the weather is warm), for 3 to 4 days.
Makes 30 cookies
Recipe from But My Family Would Never Eat Vegan!: 125 Recipes to Win Everyone Over © Kristy Turner, 2016. Reprinted by permission of the publisher, The Experiment. Available wherever books are sold. theexperimentpublishing.com