Vegan
Marbled Pumpkin Cheesecake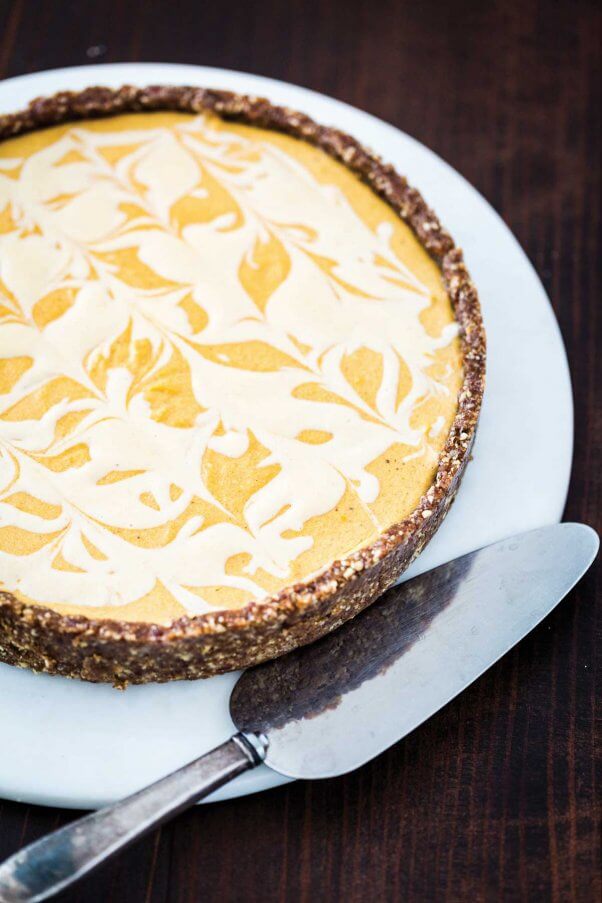 Print
Ingredients
1 cup

medjool dates, pitted

1 1/2 cups

pecan pieces

1/2 cup

almond flour

1/2 tsp.

ground cinnamon

1/2 tsp.

ground ginger

1/2 tsp.

salt

2 Tbsp.

maple syrup

1 Tbsp.

coconut oil, melted

Vegan cooking spray (soy-free if necessary)

1 1/2 cups

raw cashews, soaked in warm water for at least 4 hours and drained, water discarded (if you're using a high-speed blender, you can skip the soaking)

6 Tbsp.

chilled, hardened canned coconut cream

1/2 cup

maple syrup

3 Tbsp.

lemon juice

1 1/3 cups

puréed pumpkin (not pumpkin pie filling)

1 tsp.

vanilla extract

1 tsp.

ground cinnamon

1 tsp.

ground ginger

1/2 tsp.

ground nutmeg

1/4 tsp.

ground cloves

1/4 tsp.

salt
Instructions
To make the crust: Place the dates in a food processor and process until they're in small pieces. Add the pecans and process until crumbly. Add the almond flour, cinnamon, ginger, salt, maple syrup, and coconut oil and process until incorporated and the mixture holds together when squeezed.
Line the bottom of a 9-inch (23-cm) springform pan with parchment paper and lightly spray the inside of the pan with cooking spray. Transfer the crust mixture to the pan and spread it evenly along the bottom and about 1 inch (2.5 cm) up the sides. Place the pan in the freezer.
To make the filling: In a blender, combine the cashews, coconut cream, maple syrup, and lemon juice. Blend until smooth, then transfer 1/4 cup (60 ml) of the mixture to a small bowl and set aside. Add the pumpkin, vanilla, cinnamon, ginger, nutmeg, cloves, and salt to the blender. Blend until smooth. Pour on top of the crust and spread it evenly.
Drizzle the reserved cashew cream over the top. Carefully drag a toothpick or skewer through the coconut cream and pumpkin mixtures, making a marbleized pattern. Cover the pan, return to the freezer, and freeze for 2 hours. Transfer to the refrigerator until ready to serve. Remove the sides of the springform pan, slice, and serve. Leftovers will keep in the fridge for 3 to 4 days.
Makes 4 servings
Recipe from But My Family Would Never Eat Vegan!: 125 Recipes to Win Everyone Over © Kristy Turner, 2016. Reprinted by permission of the publisher, The Experiment. Available wherever books are sold. theexperimentpublishing.com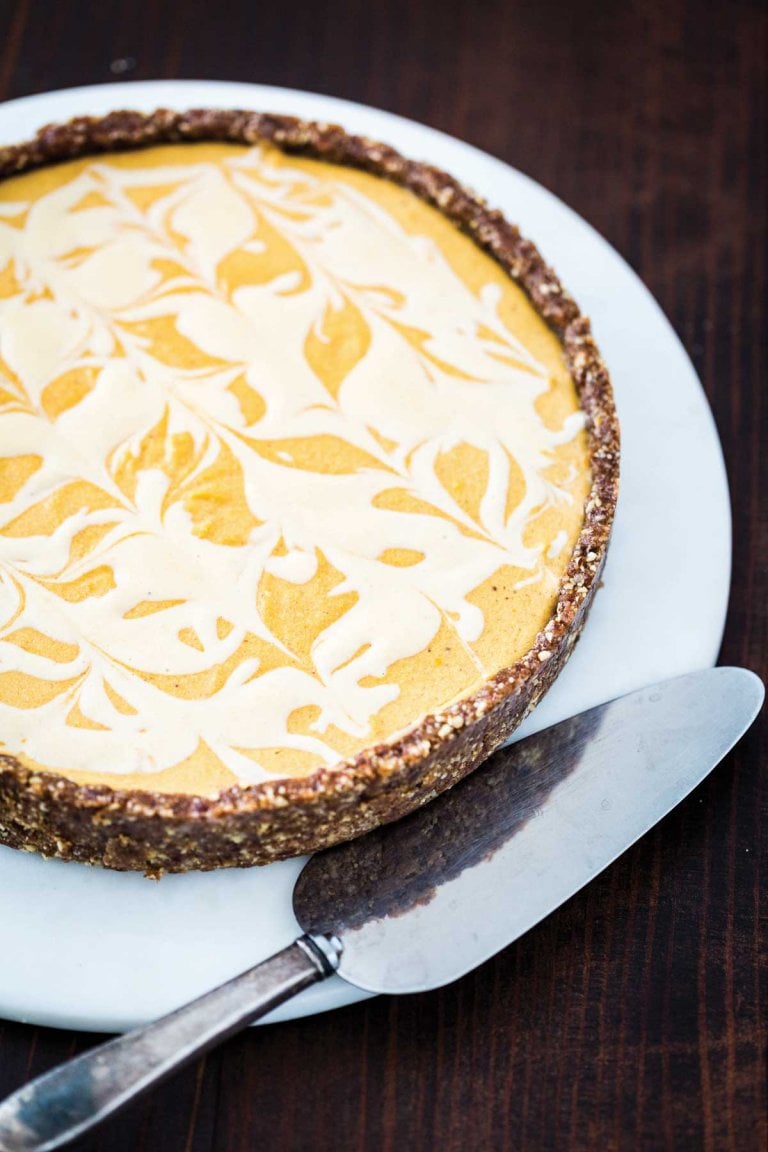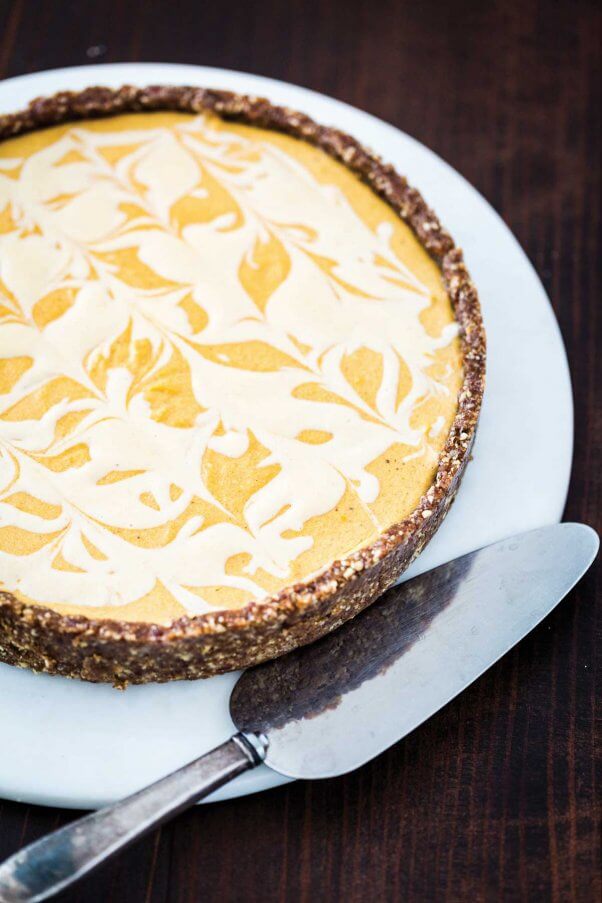 © 'But My Family Would Never Eat Vegan!'