Vegan
Ooey Gooey Chocolate Chip Chewy Bars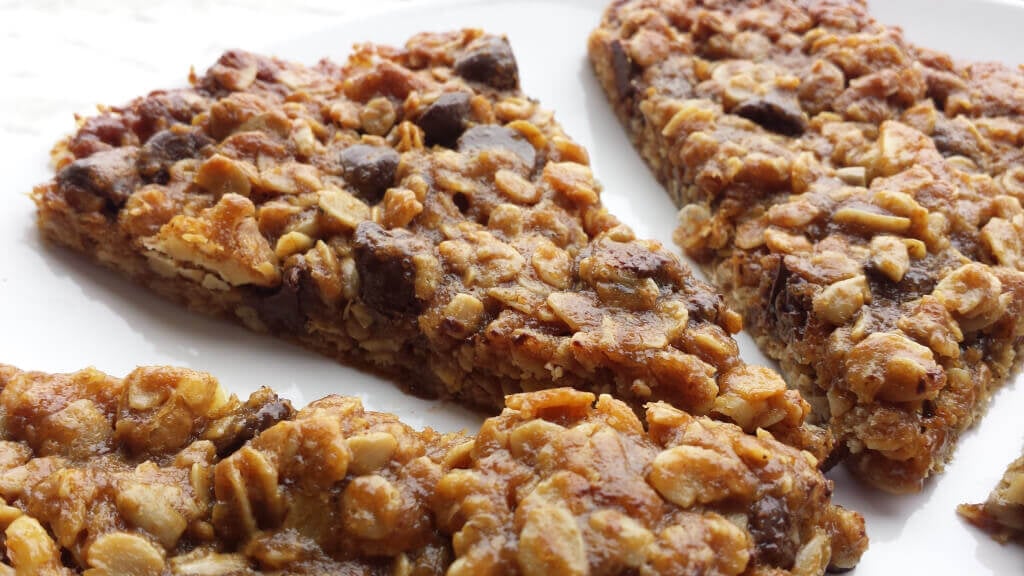 Print
Ingredients
1/2 cup

packed brown sugar

1/3 cup

peanut butter

1/4 cup

agave nectar or maple syrup

1/4 cup

vegan butter, melted

1/8 cup

sunflower kernels

1/8 cup

walnut pieces

1/4 cup

dairy-free chocolate chips

Pinch

salt

Pinch

cinnamon (optional)

1 small handful

raisins (optional)
Instructions
Preheat the oven to 350°F.
In a mixing bowl, combine the brown sugar, peanut butter, agave, and vegan butter. Stir in the oats, sunflower kernels, walnuts, chocolate chips, salt, cinnamon, and raisins. If the mixture is still warm from the melted butter, be sure to let it cool so that the chocolate chips do not melt.
Place the mixture on 2 to 3 pieces of aluminum foil or place the aluminum foil over a cookie sheet to make it more sturdy. (The foil will make it easier to remove in one piece after the mixture has cooled.) Press the mixture down flat (like in the image above) so that the bars will cook evenly.
Bake for approximately 12 to 15 minutes. When the edges start to turn light brown and caramelize, remove from the oven and let cool completely before serving. Put a plate over the bars, flip the plate over, and peel off the foil. Enjoy!
Makes 6 servings