Vegan
Mock 'Corned Beef' and Cabbage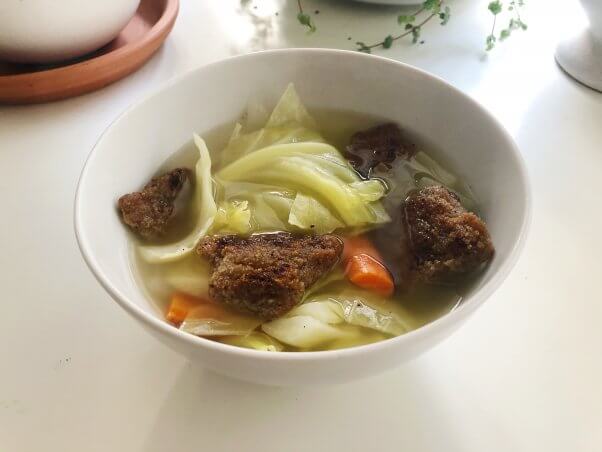 Print
Ingredients
1/2 Tbsp.

canola oil

1 large

onion, cut into wedges

1/2 medium

head of cabbage

5

carrots, shredded

3 cups

vegetable broth

1 Tbsp.

English-style hot mustard

1/2 tsp.

mild horseradish

1 Tbsp.

white wine vinegar

8 oz.

prepared seitan, sliced

1/2 tsp.

salt

1/4 tsp.

pepper

2 1/2 Tbsp.

whole wheat flour

1/3 cup

water

2 Tbsp.

fresh parsley, chopped
Instructions
Preheat the oven to 200°F.
Heat the oil in a soup pot over medium heat. Sauté the onions until soft, then add the cabbage, carrots, 1 cup of the vegetable broth, mustard, horseradish, and vinegar and simmer, covered, for 10 minutes.
Add the seitan, salt, and pepper and simmer, covered, until the vegetables are tender, about 15 minutes. Remove the vegetables and seitan to a serving dish with a slotted spoon and keep them warm in the oven.
Mix the flour with the water, add to the pot with 2 cups of the broth (add more water if necessary), and simmer for 5 minutes, stirring occasionally. Pour the gravy over the cabbage mixture in the serving dish. Garnish with the parsley and serve.
Makes 4 servings.