Vegan
Middle Eastern Pita Wraps
Prep Time

15 minutes

Cook Time

15 minutes

Servings

1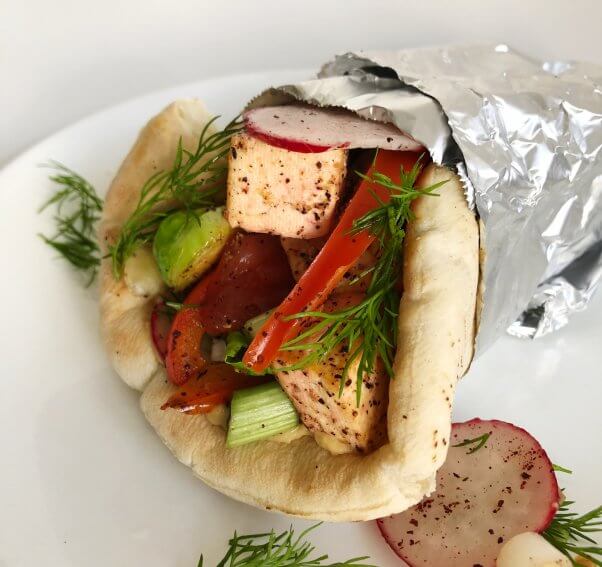 Print
Ingredients
1

pkg. tofu, drained and cubed

Salt, to taste

Pepper, to taste

1

cup lime juice

3

Tbsp. sumac

1

Tbsp. garlic powder

1

Tbsp. vegetable oil

1

bag Brussels sprouts (about 1 lb.)

1

red pepper, sliced

1

tomato, diced

5-6

sprigs fresh dill, to taste

3-4

radishes, sliced

2-3

green onions, diced

5

pieces pita bread

Garlic spread (called toum) or hummus
Instructions
Marinate cubed tofu in a bowl with salt and pepper to taste, 2 tablespoonsful of lime juice, 1 tablespoonful each of sumac and garlic powder. Stir until the tofu is well covered with spices and let sit for 10 minutes.
Heat the oil in a pan and add the tofu, Brussels sprouts, and red pepper. Cook over medium heat, stirring frequently, until the tofu is slightly browned and the Brussels sprouts are tender, about 10 minutes.
In a small bowl, add the tomato, the dill, the rest of the lime juice, 2 tablespoonsful of sumac, the radishes, and the green onions and mix well. Taste and adjust flavors as needed.
Place the pieces of pita bread on plates and spread them with the garlic sauce or hummus. Add the tofu and veggies in even portions to each pita and top with equal amounts of the tomato mix.