Vegan
Mayim Bialik's Tomato Soup With Israeli Couscous Recipe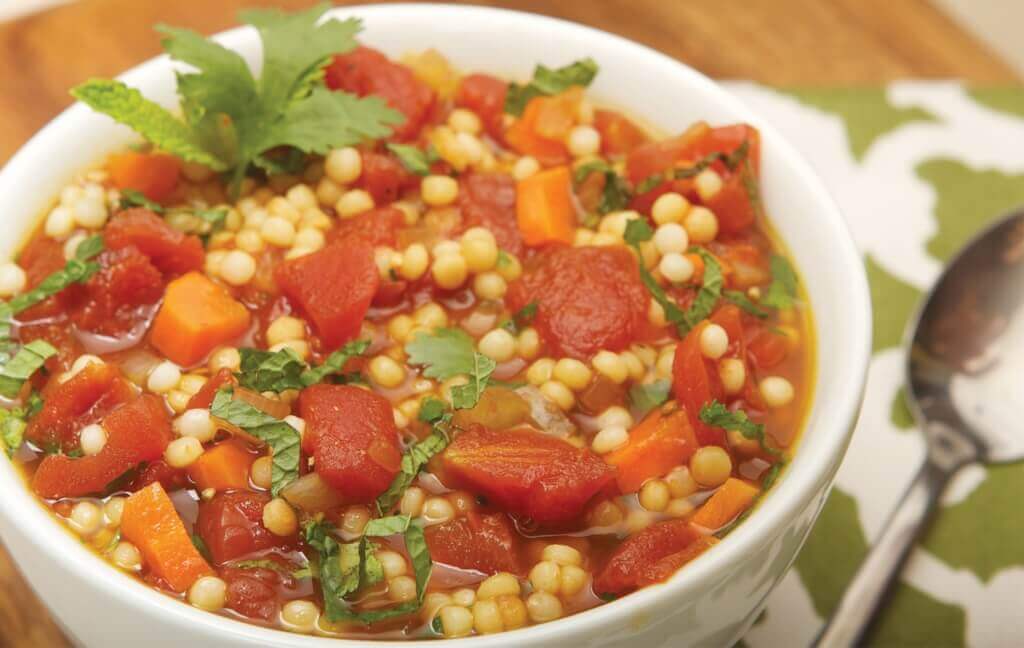 Print
Ingredients
2 Tbsp.

olive oil

1

onion, chopped

1-2

carrots, diced

1 14-oz can

chopped tomatoes

6 1/4 cups

vegan vegetable stock

1-1 1/2 cups

uncooked Israeli couscous

2-3

mint sprigs, chopped, or several pinches dried mint

1/4 tsp.

ground cumin

5 sprigs

cilantro, chopped

6 cloves

garlic, roughly chopped

Salt and freshly ground pepper, to taste
Instructions
Heat the olive oil in a large pan, add the onion and carrots, and cook over medium-low heat for about 10 minutes until softened. Add the tomatoes, vegetable stock, couscous, mint, cumin, cilantro, and half the chopped garlic.
Bring to a boil, add the remaining garlic, then lower the heat slightly and simmer gently for 7 to 10 minutes, stirring occasionally, or until the couscous is just tender.
Season to taste with salt and pepper.
This recipe was adapted from 'Mayim's Vegan Table: More Than 100 Great-Tasting and Healthy Recipes From My Family to Yours' by Mayim Bialik with Dr. Jay Gordon. Reprinted courtesy of Da Capo Lifelong Books.