Vegan
Italian Eggplant Sandwiches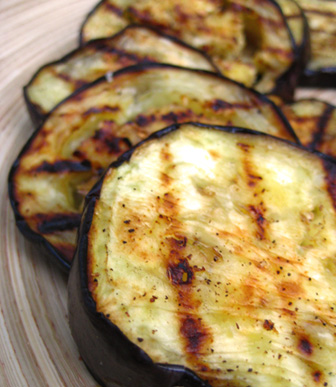 Print
Ingredients
1

eggplant

1/2 cup

unsweetened vegan milk

Vegan egg replacer equivalent to 1 egg

Salt to taste

1/2 cup

flour

1 cup

Italian-style bread crumbs

4

sub rolls, sliced

1/2-1 cup

marinara sauce
Instructions
Preheat the oven to 400 degrees F. Peel and cut the eggplant into 1/4-inch slices and set aside.
Combine the soy milk and egg replacer and a pinch of salt (if desired) and mix well. Set up a breading station with one bowl for each: flour, egg replacer mixture, and bread crumbs. Dredge the eggplant in flour and shake off the excess. Submerge the eggplant in the egg replacer mixture, shake off the excess, then coat evenly with bread crumbs. Place the eggplant in a single layer on a lightly greased baking sheet. Bake, uncovered, for 15 to 20 minutes, or until the eggplant is crisp on the outside and tender inside.
Place the eggplant slices on the sub rolls, top with marinara sauce, and serve immediately.
Makes 4 servings