Vegan
The Giant Vegan Burger That Will Make Your Heart Skip a 'Beet'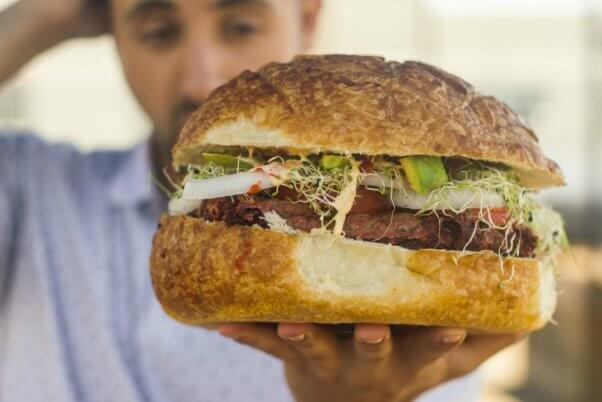 Print
Ingredients
1 1/2 cups

black beans, cooked

1/2

medium red onion, roughly chopped

2

cloves garlic

2 cups

oats

2 cups

beets, peeled and chopped

2 Tbsp.

paprika

1 Tbsp.

salt

1 tsp.

black pepper

2 Tbsp.

ketchup

2 Tbsp.

mustard
Instructions
Preheat the oven to 450°F and line an 8-inch-by-8-inch baking dish with parchment paper.
Blend the beans, onion, garlic, and oats in a food processor until the onion is broken up into small pieces.
Add the remaining ingredients and blend until well combined.
Form the mixture into 1 giant patty and transfer to the baking dish.
Bake for 20 to 30 minutes on each side or until golden brown. Serve with your favorite veggies and vegan condiments on a hearty bun.
Note: You can also form the mixture into 4 average-sized patties and bake for 10 to 15 minutes on each side.
Makes 1 giant or 4 average-sized burger patties
[peta-video youtube="nXy6a6lJSF4″]