Vegan
Giambotta (Southern Italian Vegetable Stew)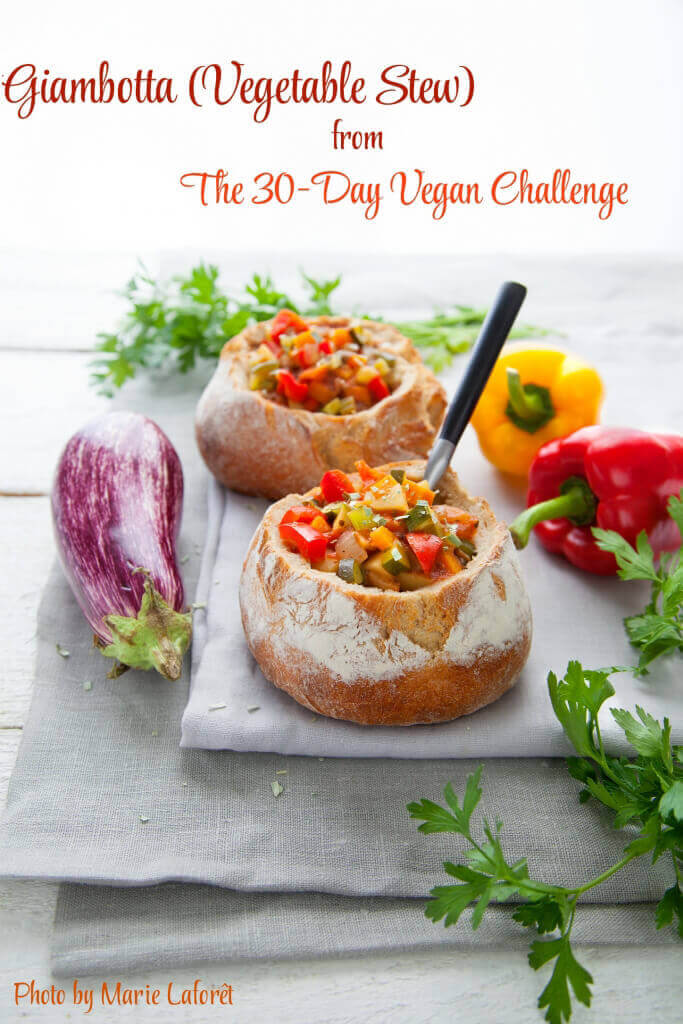 Print
Ingredients
1 Tbsp.

oil or water

1

large yellow onion, chopped

3

medium carrots, peeled and diced

2

stalks celery, diced

3

cloves garlic, minced

1

medium eggplant, cut into 1-inch pieces

1/2 cup (120 ml)

water or vegetable broth

1 (28-oz.) can

fire-roasted diced tomatoes

2

large yellow potatoes, peeled and chopped

2

red bell peppers, seeded and diced

2

medium zucchini or summer squash, diced

2

bay leaves

1 tsp.

dried thyme

1 tsp.

oregano

1 tsp.

dried parsley

1 tsp.

dried tarragon

1 tsp.

salt

1/2 tsp.

Freshly ground pepper

1/2 cup (10 to 12 leaves)

chopped basil
Instructions
Note: Also spelled Ciambotta, this is a traditional dish hailing from southern Italy. It's comfort food at its finest—and simplest. Gluten-free, wheat-free, oil-free (if using water to sauté), and soy-free.
Warm the oil in a soup pot over medium-high heat. Add the onion, carrots, celery, and garlic and cook, stirring occasionally, for 10 minutes, or until the vegetables begin to soften.
Add the eggplant and vegetable broth and cook, covered, for 10 minutes.
Add the tomatoes, potatoes, peppers, zucchini, bay leaves, thyme, oregano, parsley, and tarragon. Reduce the heat to low and cook, uncovered, for about 25 minutes, or until all the vegetables are soft. Add more broth, if needed.
Stir in the salt, pepper, and basil. Serve immediately.
Nutritional Information
Per serving (using oil for sautéing): calories: 280, protein: 7.3 g, fat: 4.7 g, carbohydrates: 58 g, fiber: 9.7 g, cholesterol: 0 mg
Per serving (using water for sautéing): calories: 248, protein: 7.3 g, fat: 1.2 g, carbohydrates: 57 g, fiber: 9.7 g, cholesterol: 0 mg
Copyright 2015 Compassionate Cooks, LLC. Reprinted and adapted from The 30-Day Vegan Challenge: The Ultimate Guide to Eating Healthfully and Living Compassionately by permission of the author, Colleen Patrick-Goudreau