Vegan
French Onion Soup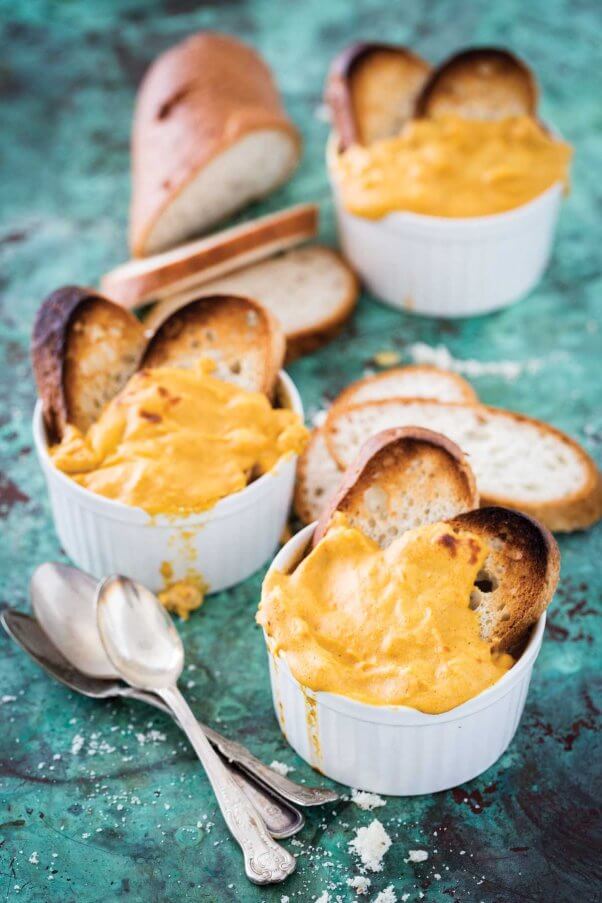 Print
Ingredients
4 Tbsp.

vegan butter (soy-free if necessary)

6

medium yellow onions, halved and very thinly sliced

2

cloves garlic, minced

1 Tbsp.

fresh thyme leaves

2

bay leaves

1 cup

vegan dry white wine

2 Tbsp.

oat flour (certified gluten-free if necessary)

2 quarts

low-sodium vegetable broth

1 Tbsp.

nutritional yeast, optional

Salt and black pepper, to taste

1

vegan baguette, sliced (gluten-free if necessary)

Chopped fresh parsley, optional
Instructions
Melt the butter in a large pot or Dutch oven over medium heat. Add the onions and cook for 20 to 25 minutes, stirring every so often, until browned and caramelized.
Add the garlic, thyme, and bay leaves and cook for 2 to 3 minutes more, until the garlic is fragrant. Add the wine and cook, stirring occasionally, until the liquid has been absorbed. Add the oat flour and cook, stirring constantly, until the flour is no longer visible, about 2 minutes.
Add the broth and bring to a boil. Reduce the heat and simmer for about 15 minutes, until thickened. Add the nutritional yeast (if using), salt, and pepper. Remove from the heat and discard the bay leaves.
Preheat the oven broiler. Arrange six small ovenproof bowls or ramekins on a baking sheet. Pour the soup into the bowls. Place 1 or 2 baguette slices on top of the soup. Spoon the "cheese" sauce over the bread. Place the baking sheet with the bowls under the broiler. Broil for 3 to 4 minutes, until the cheese is browned and bubbly. Remove from the heat and sprinkle with parsley (if using). Serve immediately. Leftover soup will keep in an airtight container in the fridge for 2 to 3 days.
Makes 6 servings
Recipe from But My Family Would Never Eat Vegan!: 125 Recipes to Win Everyone Over © Kristy Turner, 2016. Reprinted by permission of the publisher, The Experiment. Available wherever books are sold. theexperimentpublishing.com