Vegan
French Fry Corn Dog (Korean Street Food, 'Veganized')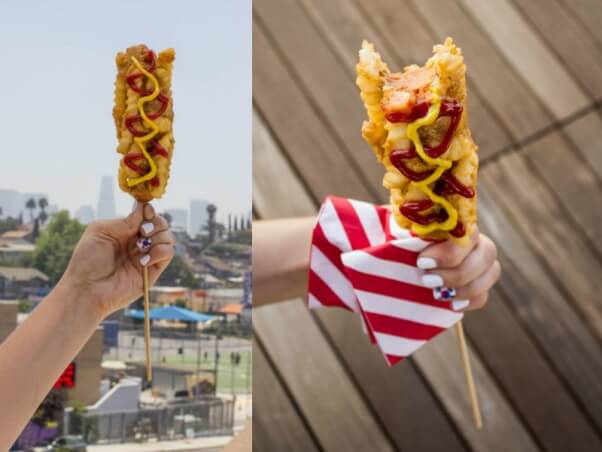 Print
Ingredients
2/3 cup

cornmeal

1 cup

flour

2 Tbsp.

sugar

1 Tbsp.

ground flaxseeds mixed with 3 Tbsp. water (or other egg replacer equivalent of 1 egg)

1/2 cup

nondairy milk

Vegetable oil, for frying

1/2 tsp.

paprika

1/2 tsp.

mustard powder

4

wooden skewers

4

vegan hot dogs

3 cups

frozen crinkle-cut French fries
Instructions
Mix together the cornmeal, flour, sugar, paprika, mustard, flaxseed mixture, and nondairy milk. Cover with plastic wrap and set aside for at least 30 minutes.
Heat the oil to 350°F in a deep fryer or a deep pot.
Insert one skewer into a vegan hot dog (at least halfway), coat with the cornmeal batter and French fries. Fry in the oil immediately for 3 to 5 minutes, or until golden brown. Repeat with the remaining hot dogs.
Let cool for 5 minutes on a paper towel–lined plate and enjoy with your favorite condiments.
Makes 4 servings
Note: PETA promotes a healthy plant-based lifestyle. This recipe is a special treat just to prove that anything can be made vegan. If you choose to enjoy this dish, please do so in moderation.