Vegan
Fondant au Chocolat with Vanilla 'Cream' (Gluten-Free)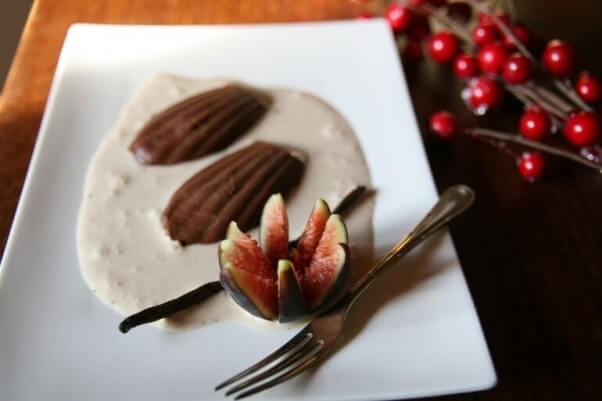 Print
Ingredients
1 1/2 cups

coconut cream

1/4 tsp.

agar-agar powder

1 Tbsp.

agave or brown rice syrup

2 Tbsp.

vegan margarine

Pinch salt

1 Tbsp.

cocoa powder

3.5 oz

high-quality vegan chocolate, broken into pieces

2 Tbsp.

brown sugar

1

vanilla bean or 1 tsp. vanilla extract
Instructions
Put 3/4 cup coconut cream, the agar-agar powder, agave, vegan margarine, salt, and cocoa powder in a small pan and gently bring to a boil.
Remove from the heat and add the pieces of chocolate, stirring until melted.
Pour into small greased molds and leave to set in the fridge.
Gently heat the rest of the coconut cream in a saucepan over medium-low heat. Add the brown sugar and stir until dissolved. (A light-brown sugar will result in a light sauce, and a dark-brown sugar will result in a more traditional dark-colored sauce.) Remove from the heat.
Cut the vanilla bean in half lengthwise with a sharp knife and scrape out the sticky black seeds. Add the seeds to the sauce, then let sit to infuse.
To serve, place a spoonful of warm vanilla "cream" in the center of a plate followed by two fondants au chocolat.
Makes 4 servings