Vegan
Enchilada Pie
Prep Time

15 minutes

Cook Time

20 minutes

Servings

6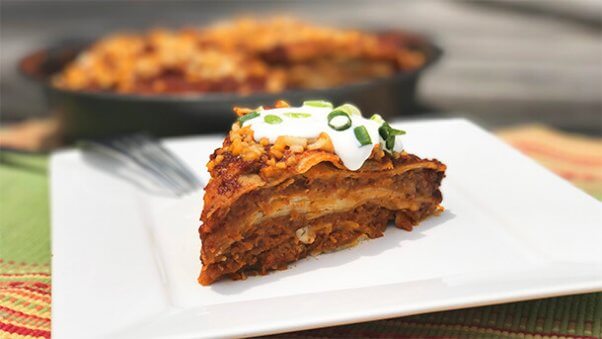 Print
Ingredients
1/2 tube

Soyrizo

2 15-oz. cans

beans (refried or whole)

20

tortillas

1 pkg.

vegan cheese shreds (We used Follow Your Heart shreds)

1 bottle

enchilada sauce (Trader Joe's makes a vegan one)

Green onions, for topping (optional)

Black olives, for topping (optional)

Vegan chipotle aioli (optional)

Vegan sour cream (optional)
Instructions
Preheat the oven to 400°F.
In a large bowl, mix the Soyrizo and beans.
In a round baking dish, layer the tortillas, Soyrizo mixture, and vegan cheese. Alternate the three layers until you run out of tortillas, but make sure that your top layer is a tortilla.
Pour the enchilada sauce over the stacked pie, top with vegan cheese, and bake for 20 minutes. Allow to cool for 10 minutes.
Garnish with desired toppings, cut into quarters, and enjoy!