Vegan
Easy Lentil Stuffed Cabbage
Prep Time

30 minutes

Cook Time

20 minutes

Servings

2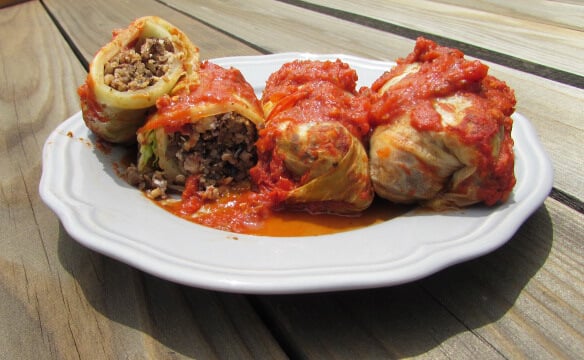 Print
Ingredients
6

cups water

8

cabbage leaves

1

24-oz. jar tomato sauce

1

Tbsp. olive oil

1

onion, chopped

1

12-oz. can brown lentils, drained and rinsed

1

cup rice or other grain of choice, cooked

Salt and pepper, to taste
Instructions
In a large pot, bring the water to a boil. Add the cabbage leaves and cook for about 2 minutes each, or until soft. Set aside.
Discard the water, then pour in the tomato sauce and simmer over low heat.
Heat the oil in a large saucepan and sauté the onion until it turns translucent.
Add the lentils and cook for 1 minute.
Add the cooked rice or other grain, salt, and pepper. Cook for 5 more minutes, then remove from the heat and set aside.
Spread out the cabbage leaves and place a large spoonful of the lentil mixture in the center of each, close to the stem. Roll the cabbage leaf up over the filling, burrito-style.
Place all the rolls seam side down in the pot with the tomato sauce and simmer for another 10 minutes.
Enjoy!
Pro tip: You can swap out the lentils with beefless crumbles or Soyrizo for a spicier dish.