Vegan
Double-Double Cheeseburgers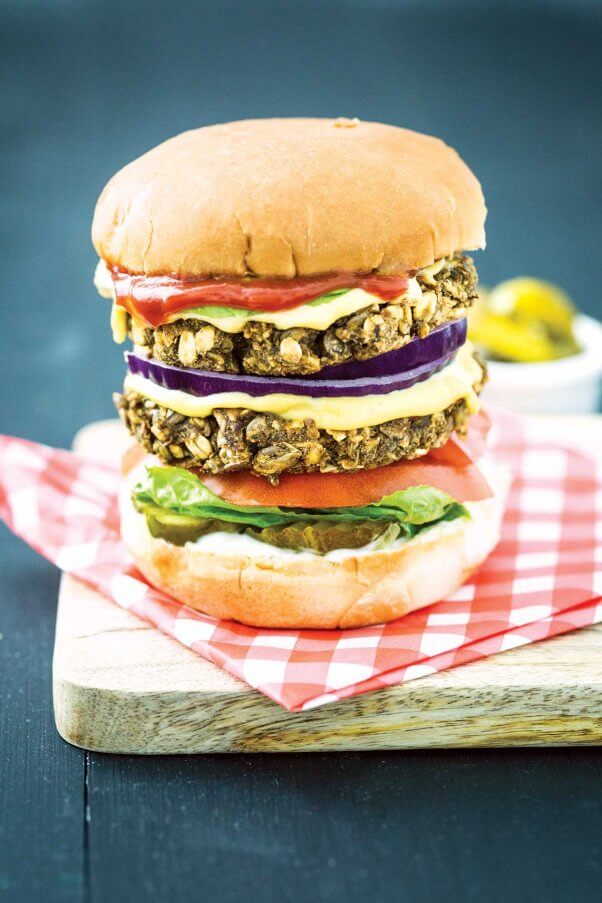 Print
Ingredients
1 tsp.

olive oil

1/2

medium yellow onion, chopped

2

cloves garlic, minced

8 oz. (225 g)

cremini mushrooms (or button mushrooms), sliced

2 cups

cooked lentils

2 Tbsp.

liquid aminos (or gluten-free tamari; use coconut aminos to be soy-free)

2 Tbsp.

nutritional yeast

1 Tbsp.

vegan Worcestershire sauce (gluten-free and/or soy-free if necessary), optional

1 tsp.

ground cumin

1 tsp.

dried parsley

1/2 tsp.

smoked paprika

1/2 tsp.

salt

Black pepper, to taste

1 cup

rolled oats (certified gluten-free if necessary), plus more if needed

1/2 cup

quinoa flour

3 Tbsp.

almond flour

2 Tbsp.

flax meal

4

vegan burger buns (gluten-free if necessary)

Optional burger fixings: ketchup, mustard (gluten-free if necessary), vegan mayonnaise (soy-free if necessary), relish, lettuce, sliced tomatoes, sliced red onion, pickles
Instructions
Preheat the oven to 375°F (190°C). Line a baking sheet with parchment paper or a silicone baking mat.
Heat the oil in a large frying pan over medium heat. Add the onion, garlic, and mushrooms and sauté until the mushrooms are tender and the onions are translucent, 4 to 5 minutes. Remove from the heat and transfer to a food processor. Add 1 cup (110 g) of the lentils, the liquid aminos, nutritional yeast, Worcestershire sauce (if using), cumin, parsley, paprika, salt, and pepper. Pulse until fully combined and all pieces are similar in size.
Transfer to a large bowl. Add the remaining lentils, the oats, quinoa flour, almond flour, and flax meal and mix until a thick dough forms. If it's too liquidy, add more oats. If it's too dry, add water by the tablespoon until it's no longer crumbly. It should hold together without crumbling when squeezed.
Use your hands to form the mixture into 8 patties and place them on the baking sheet. Bake for 20 minutes, flipping once halfway through to ensure even cooking. Drizzle cheese sauce over the tops and bake for another 5 minutes.
To assemble, spread ketchup, mustard, mayonnaise, and/or relish on the top and bottom halves of the buns. Place some lettuce on the bottom bun and stack two patties on top. Top the patties with tomato, red onion, and/or pickles, as desired. Serve immediately. Leftover burgers will keep in an airtight container in the fridge for 4 to 5 days.
Makes 4 servings
Recipe from But My Family Would Never Eat Vegan!: 125 Recipes to Win Everyone Over © Kristy Turner, 2016. Reprinted by permission of the publisher, The Experiment. Available wherever books are sold. theexperimentpublishing.com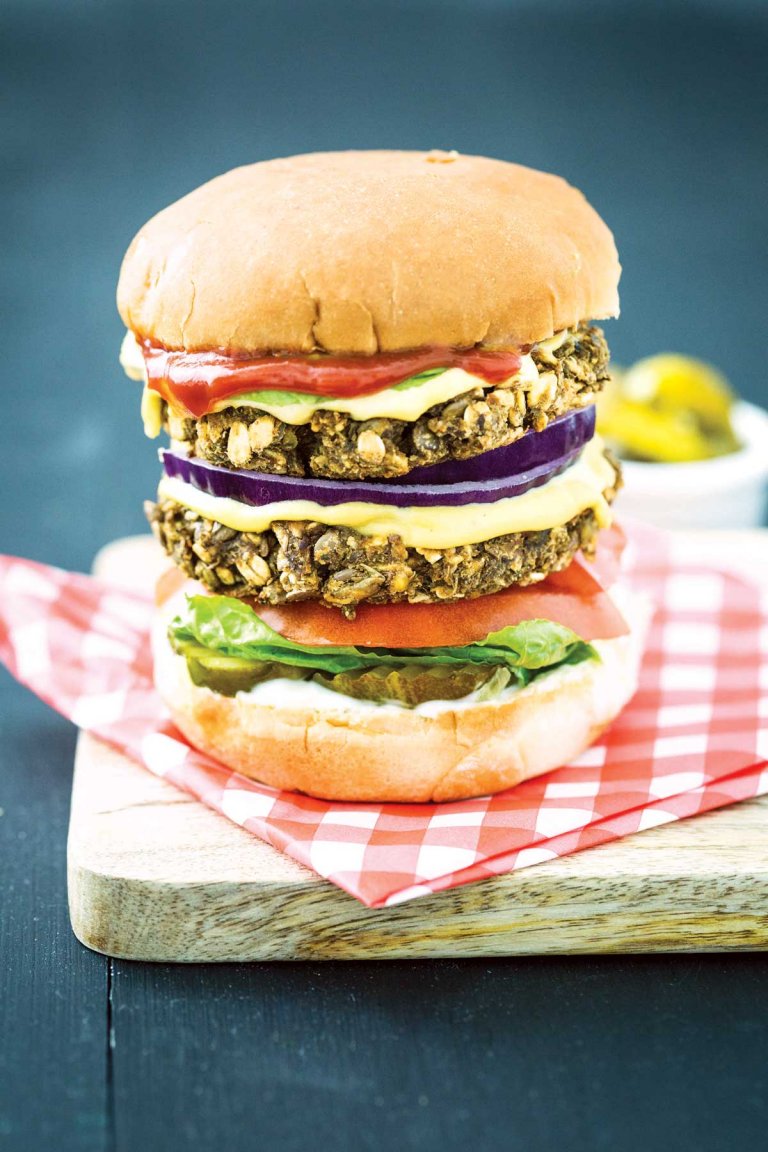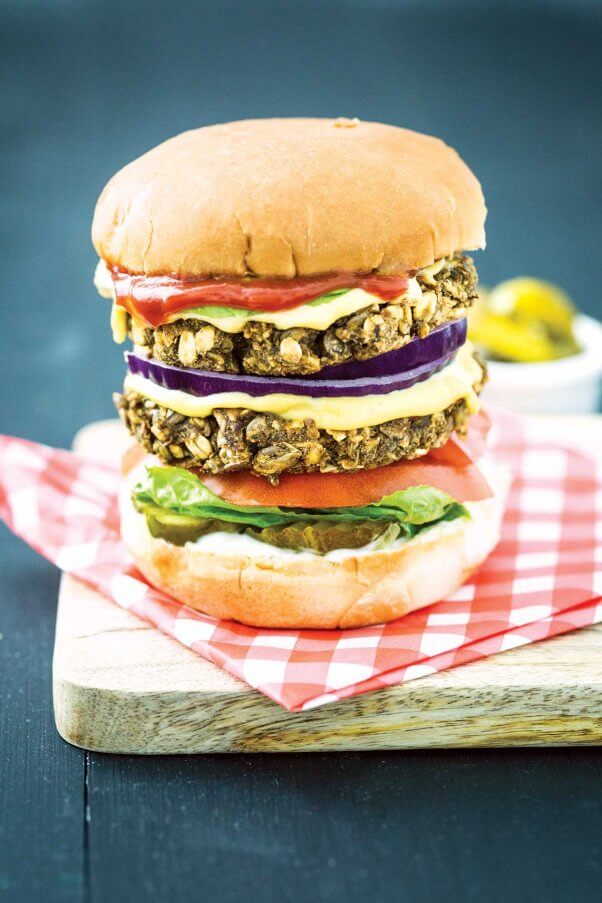 © 'But My Family Would Never Eat Vegan!'