Vegan
Curry Lime Cauliflower Wings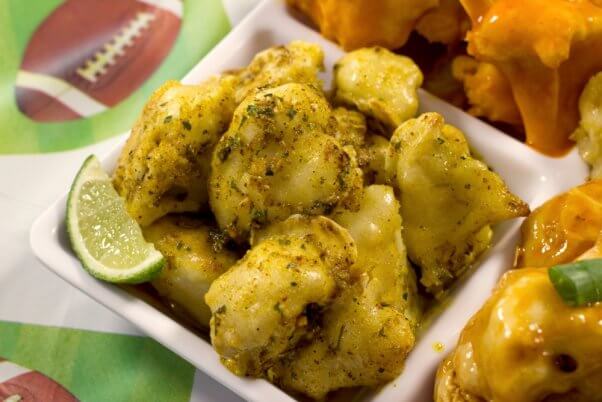 Print
Ingredients
1 cup

soy or coconut milk

1 cup

flour (any kind will work—even gluten-free)

2 tsp.

garlic powder

1 head

cauliflower, chopped into pieces

1 Tbsp.

vegetable oil or melted vegan butter

1 Tbsp.

curry powder

1/2 tsp.

cumin

1/2 tsp.

turmeric

1/2 tsp.

cayenne powder

1/2 tsp.

salt

Juice of 1 lime

Fresh cilantro, for garnish (optional)
Instructions
Preheat the oven to 450°F.
Combine the soy or coconut milk, flour, and garlic powder in a bowl and stir until well combined.
Coat the cauliflower pieces with the flour mixture and place in a shallow baking dish. Bake for 18 minutes.
While the cauliflower is baking, combine the oil or melted vegan butter, remaining spices, and juice from half a lime in a small bowl.
Pour the curry sauce mixture over the baked cauliflower and bake for an additional 5 to 8 minutes.
Squeeze on the remaining lime juice, sprinkle chopped cilantro on top, and enjoy.
Makes 4 servings
[peta-video youtube="5o_3Vz7fjGg"]