Vegan
Crunchy Baked Tofu Fries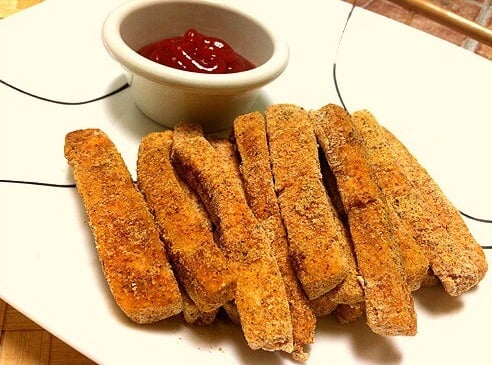 Print
Ingredients
dash olive oil

1/4 cup

cornmeal

1/4 cup

brown-rice four

1½ tsp.

celery salt

1½ tsp.

red pepper

1½ tsp.

black pepper

1½ tsp.

paprika

1 tsp.

salt

14 oz.

extra-firm tofu, drained and pressed
Instructions
Pre-heat the oven to 425 degrees.
Cover a baking sheet with foil and brush with the olive oil.
Combine the cornmeal, brown-rice flour, celery salt, red pepper, black pepper, paprika, and salt in a small bowl.
Cut the tofu into French fry–shaped pieces and dip each into the dry mixture until coated on all sides.
Place on the baking sheet and bake for 15 to 20 minutes.
Let cool for 2 minutes, then enjoy with your favorite dipping sauce!
Makes 2 servings