Vegan
New Wave Foods Crispy 'Shrimp' Tacos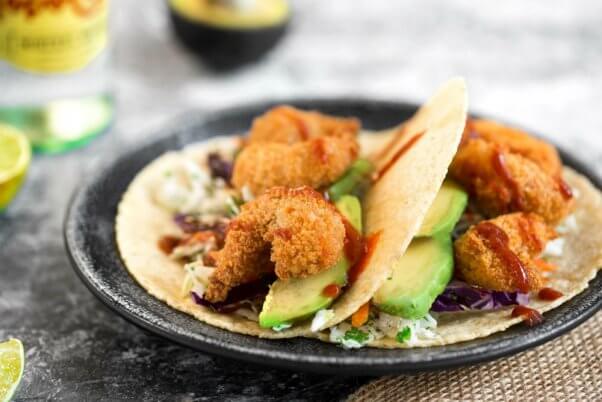 Print
Ingredients
2 cups

shredded green and/or red cabbage

1/2 cup

shredded carrots

2 Tbsp.

lime juice

2 Tbsp.

minced fresh cilantro

1 Tbsp.

olive oil

1/4 tsp.

salt

1/8 tsp.

cayenne pepper

24 pieces

New Wave Foods Crispy Shrimp

8

soft corn tortillas, warmed

2

avocados, sliced

Sriracha sauce, optional
Instructions
Preheat the oven to 400°F.
Toss together the shredded cabbage and carrots and mix in the lime juice, cilantro, olive oil, salt, and cayenne pepper. Adjust the seasonings, if needed, and set aside.
Lay the "shrimp" in a single layer on an ungreased baking sheet. Place in the oven and cook for 10 minutes, then flip and cook for an additional 5 to 10 minutes, or until golden brown and crispy on both sides.
Place about 1/4 cup of the slaw, a few slices of avocado, and 3 of the "shrimp" pieces on each tortilla.
If desired, finish with a drizzle of Sriracha sauce.
Makes 8 tacos
Note: Meal-delivery service Veestro offers a New Wave Foods vegan shrimp jambalaya entrée. New Wave products are also available at Orchard Grocer in Manhattan, New York, and Calafia Café in Palo Alto, California, and will be offered in more locations soon.