Vegan
Candied Orange Peel (Gluten-Free)
Prep Time

15 minutes

Cook Time

1 hour

Servings

1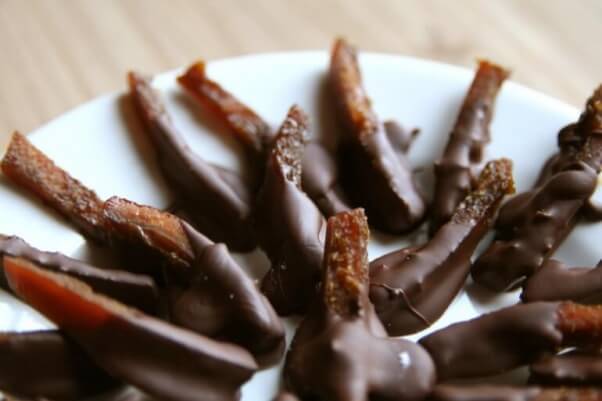 Print
Ingredients
2

large oranges

3 cups

water + more for boiling

3 1/4 cups

sugar

7 oz.

high-quality vegan chocolate, broken into pieces
Instructions
Cut a 1-inch slice off the top and bottom of each orange, then cut into four vertical segments.
Remove the insides, including the pith. Slice each segment of peel into 1/4-inch-wide strips.
Fill a saucepan with water and bring to a boil. Add the orange-peel strips and boil for 15 minutes. Drain and set aside.
In another saucepan, add 3 cups water and the sugar and bring to a boil, stirring until the sugar has dissolved. Add the orange-peel strips. Reduce the heat and simmer for 45 minutes.
Drain and allow to cool completely.
Melt the chocolate over a very low heat, stirring constantly.
Dip half of each orange-peel strip in the chocolate and place on a sheet of parchment paper to allow the chocolate to set.
Makes 4 servings