Adapted and published with permission from McCormick's series of vegan Mexican recipes
Vegan
Creamy Vegan Cauliflower Queso Dip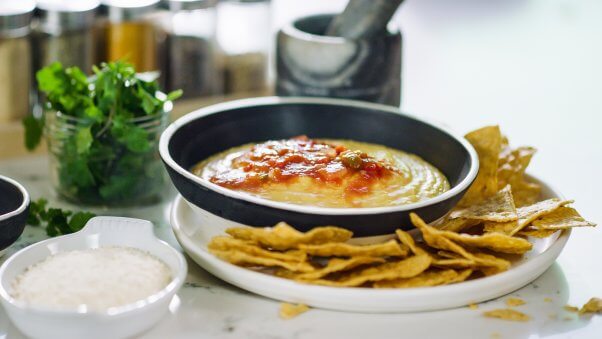 Print
Ingredients
1 Tbsp.

vegetable oil

3/4 cup

sliced onion

1/2

jalapeño pepper, seeded and thinly sliced

1 1/2 tsp.

McCormick Paprika

1 tsp.

McCormick Garlic Powder

1 tsp.

McCormick Ground Mustard

1/2 tsp.

McCormick Ground Cumin

1/8 tsp.

McCormick Ground Turmeric

1/2 tsp.

salt

1 1/2 tsp.

nutritional yeast

1

13.66-oz. can Thai Kitchen Coconut Milk

1 Tbsp.

white miso paste

2 cups

cauliflower florets

1/3 cup

raw unsalted cashews

1 Tbsp.

white vinegar

1 Tbsp.

Frank's RedHot Original Cayenne Pepper Sauce

1/4 cup

salsa
Instructions
In a large saucepan, warm the oil over medium heat. Add the onion and pepper and cook until softened, about 3 to 5 minutes, stirring occasionally.
Stir in the spices, salt, and nutritional yeast and cook for 1 minute. Stir in the coconut milk and miso paste. Reduce the heat to medium-low, add the cauliflower and cashews, and cook, stirring occasionally, until the cauliflower is tender, about 20 minutes. Stir in the vinegar, hot sauce, and salsa.
In a blender with the center part of the cover removed to allow steam to escape, purée the mixture in batches on high speed until completely smooth, scraping the sides occasionally. If the mixture is too thick to process, add water 1 tablespoonful at a time, as needed.
Return to the saucepan and stir in additional hot sauce, salsa, or jalapeños, if needed, to reach desired heat level. Cook over low heat, stirring constantly, until heated through. Serve hot with tortilla chips or use to top vegan tacos or burrito bowls.