Vegan
Creamed Vegan 'Honey'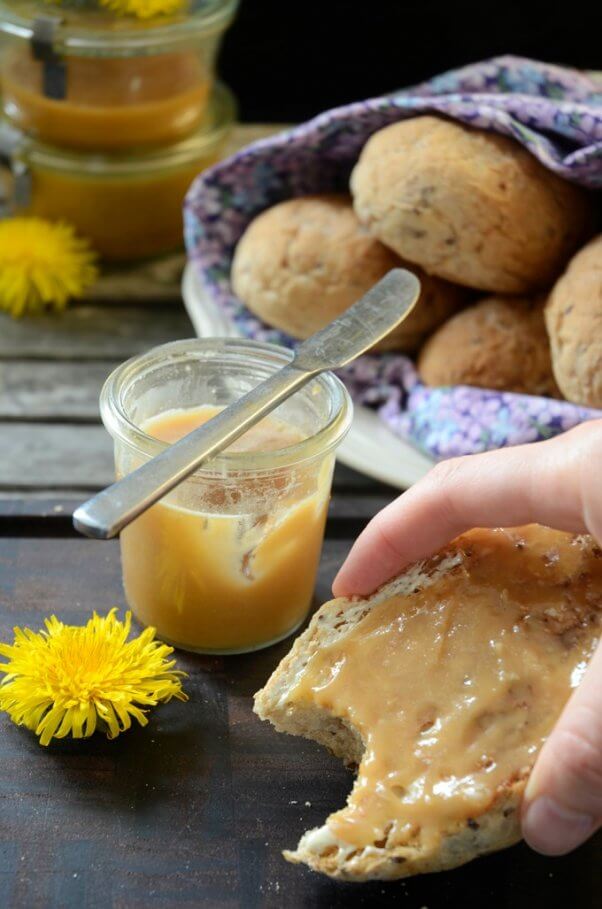 Print
Ingredients
9 cups

room-temperature powdered sugar
Instructions
Place the powdered sugar in a bowl and, using a mixer or by hand, gently stir in enough of the dandelion honey to make the color look completely even—this may take a couple minutes.
Pour in the rest of the syrup and continue to stir until evenly distributed.
Divide into jars, cover them with cloths, and refrigerate at about 57°F until crystallized (the vegetable drawer should be fine). This should take about 24 hours, but if it takes longer, stir for 30 seconds each day.
After the honey has set, remove from fridge and let them remain covered with cloths to let more water evaporate in order to achieve a firmer consistency.
Note: If crystallization fails, boil some water in a glass pan, and pour the semi-crystallized syrup into it. Let the syrup slowly melt for a couple of hours, and then start over, attempting a more perfect chilling temperature or stirring once a day while chilling.
Makes about 3 1/2 cups
Recipe courtesy of and adapted from Plant Pusherne.