Vegan
Classic Holiday Sugar Cookies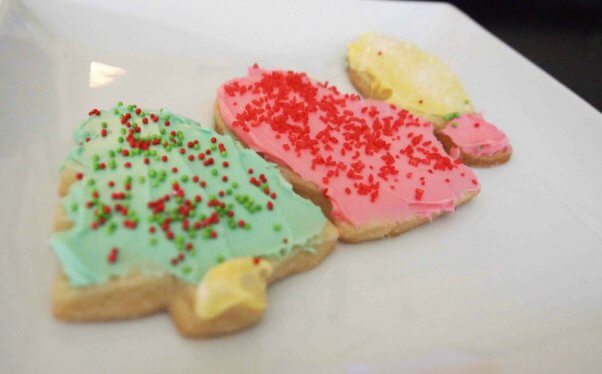 Print
Ingredients
1 cup

vegan butter

1 cup

sugar

1 tsp.

vanilla extract

2 tsp.

baking powder

2 3/4 cups + 1/2 cup

flour

1/2 cup

powdered sugar

Vegan frosting and sprinkles (optional)
Instructions
Preheat the oven to 400°F and line 2 baking sheets with parchment paper.
Combine the vegan butter and sugar in a large bowl and beat with an electric mixer on medium speed until smooth.
Add the vegan egg and vanilla extract and mix again until combined.
Add the baking powder and 2 3/4 cups flour and beat on low speed until a thick dough forms.
In a separate bowl, combine the remaining flour and the powdered sugar and generously cover your hands, work surface, and rolling pin with the mixture. Place the dough on the surface and roll to desired thickness.
Use cookie cutters to make fun and festive shapes, or roll the dough into 1-inch balls and flatten for circular cookies. Place on the baking sheets and bake for 9 to 11 minutes or until lightly browned.
Let cool for 10 to 15 minutes before decorating with frosting and sprinkles.
Makes 24 cookies
Note: PETA promotes a healthy, plant-based lifestyle. If you choose to eat "junk food," we suggest doing so in moderation and picking from options that do not contain animal-derived ingredients.