Vegan
Chocolate-Peanut Butter Brownies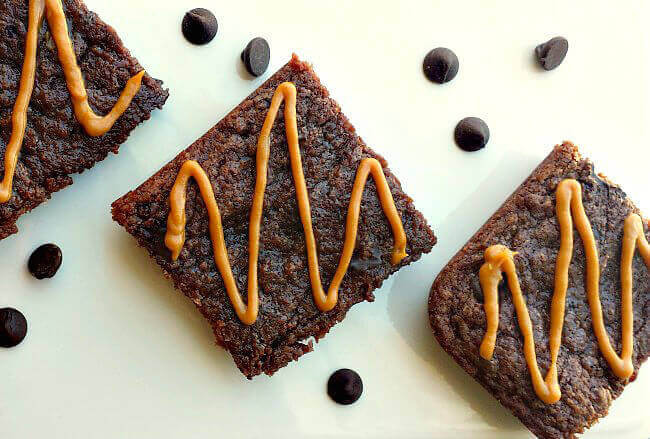 Print
Ingredients
1 1/2 cups 

packed brown sugar

16-oz. jar

creamy peanut butter, divided

3/4 cup

margarine, melted and divided

1/4 cup

silken tofu, puréed

1 tsp.

pure vanilla extract

1 cup 

all-purpose flour

1 tsp.

baking powder

1/8 tsp.

salt

1/3 cup

dark chocolate chips

3 cups

powdered sugar

2 1/2 Tbsp.

cocoa powder

3 Tbsp.

soy milk, plus more as needed
Instructions
 Preheat the oven to 350°F. Lightly oil a 13- x 9-inch baking pan.
In a medium bowl, mix the brown sugar, 1 1/4 cups of the peanut butter, and 1/2 cup of the margarine until smooth. Beat in the egg replacer, tofu, and half of the vanilla until smooth.
In a separate bowl, combine the flour, baking powder, and salt. Mix into the peanut butter mixture. Fold in the dark chocolate chips.
Pour into the prepared pan and bake for 25 to 30 minutes, or until the brownies start to pull away from the sides of the pan. Cool on a wire rack.
In a large bowl, combine the remaining peanut butter, remaining margarine, powdered sugar, cocoa powder, vanilla, and soy milk. Beat until smooth. Stir in more soy milk until the frosting is of spreading consistency. Spread over the brownies.
Makes 2 dozen