Vegan
Choco-Gingerbread Cookies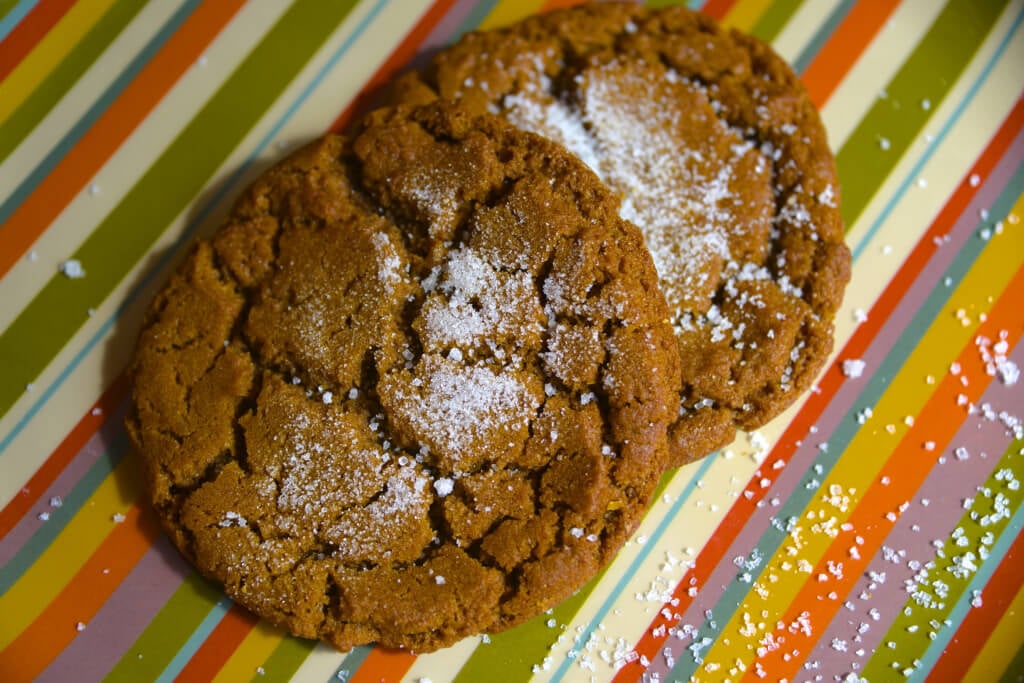 Print
Ingredients
1 1/2 cups

plus 1 Tbsp. all-purpose flour

1 1/4 tsp.

ground ginger

1 tsp.

cinnamon

1/4 tsp.

cloves

1/4 tsp.

nutmeg

1 Tbsp.

cocoa powder

8 Tbsp.

margarine, softened

1 Tbsp.

freshly grated ginger root

1/2 cup

dark brown sugar, packed

1/4 cup

molasses

1 tsp.

baking soda dissolved in 1 1/2 tsp. boiling water

1 cup

semisweet chocolate chips

1/4 cup

granulated sugar
Instructions
In a medium bowl, whisk together the flour, ground ginger, cinnamon, cloves, nutmeg and cocoa. Set aside.
With an electric mixer, beat together the margarine and grated ginger root until well blended, about 4 minutes. Add the brown sugar and beat until combined. Add the molasses and beat well. Beat half of the flour mixture into the margarine mixture. Beat in the baking soda mixture, then the rest of the flour mixture. Stir in the chocolate chips. Chill, covered, for about one hour.
Preheat the oven to 325 degrees F.
Roll the dough into 1 1/2-inch balls, then roll each ball in the granulated sugar. Place on baking sheets lined with parchment paper. Bake until the surfaces crack slightly, about 13 to 15 minutes.
Makes about 2 dozen cookies