Vegan
Chicken Pot Pie Empanadas (Vegan)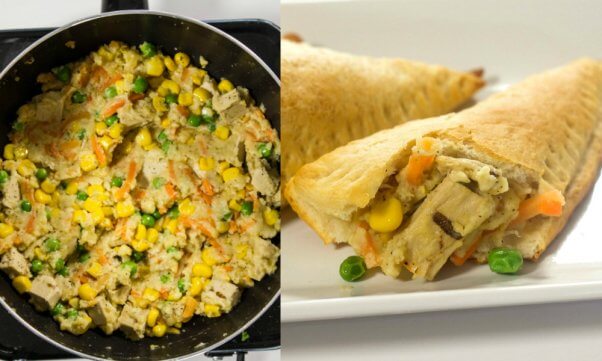 Print
Ingredients
1/2 cup

flour

1/2 cup

oil

2 1/2 cups

vegetable broth

1/4 cup

nutritional yeast

1

garlic, minced

1/2 cup

frozen or canned and drained corn

1/2 cup

frozen or canned and drained peas

1/2 cup

frozen or canned and drained diced carrots

2 cans

vegan crescent roll dough
Instructions
Preheat the oven to 350°F.
Add the flour to a large pot and stir continuously over low heat until lightly toasted.
Add the oil and stir continuously to make a roux. Slowly whisk in the broth and nutritional yeast.
Add the garlic, vegetables, and vegan chicken. Cook for 5 to 10 minutes, or until heated through.
Separate the vegan crescent roll dough pieces. Place a spoonful of the filling on one piece of dough and place another piece of dough on top. Press the edges together with a fork to seal. Bake for 20 minutes, or until golden brown.
Makes 8 empanadas
[peta-video youtube="18WYokPA84A"]