Vegan
Iced Gingerbread Cookies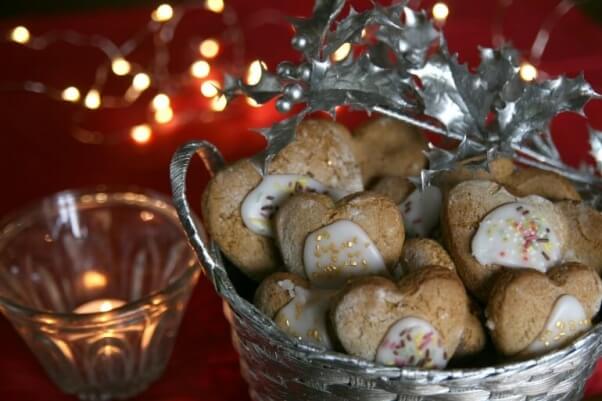 Print
Ingredients
1/2 cup

unsweetened applesauce

1 cup

sugar

1 tsp.

ground cinnamon

1 tsp.

ground ginger

1 tsp.

ground cloves

1 tsp.

baking powder mixed with 3 Tbsp. cold water

7 oz.

agave syrup or brown rice syrup

2 cups

all-purpose flour

1/2 cup

powdered sugar

2 Tbsp.

water

Sprinkles, for decorating
Instructions
In a large bowl, beat the applesauce with the sugar.
Add the spices, baking powder–water mixture, and syrup and mix well.
Add the flour gradually and mix into a stiff dough. Shape into a ball and allow to rest for 30 minutes.
Preheat the oven to 400°F.
On a flat, floured surface, roll the dough out to 1-inch thickness and cut with holiday-themed cookie cutters. Place the cut-out shapes on a baking tray lined with parchment paper. (Allow some space in between, as they will spread a little while baking.)
Bake for 10 minutes, or until lightly browned around the edges. Allow to cool.
Mix the powdered sugar and water until smooth. Spread on the cookies and decorate with sprinkles. Store in an airtight container.
Makes 4 servings