Vegan
The Buddhist Chef's Tofu Scramble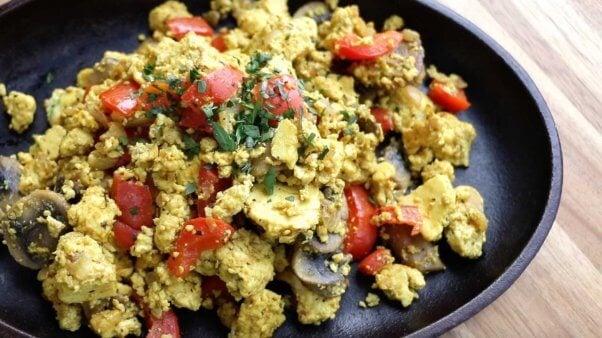 Print
Ingredients
16 oz.

firm tofu

2 Tbsp.

vegetable oil

1

small onion, chopped

1/2

red bell pepper, diced

4

large mushrooms, sliced

1/2 cup

water

3/4 cup

soy milk

3 Tbsp.

nutritional yeast

1 tsp.

maple syrup

1 tsp.

onion powder

1 tsp.

salt

1/2 tsp.

basil

1/4 tsp.

turmeric

1/4 tsp.

paprika

Pepper, to taste
Instructions
Pulse the tofu in a food processor or break apart with a fork until crumbled. Set aside.
Heat the oil in a large pan over medium-high heat.
Sauté the onion, bell pepper, and mushrooms for 3 minutes.
Add the water and continue cooking until the vegetables are tender.
Stir in the tofu, soy milk, nutritional yeast, maple syrup, onion powder, salt, basil, turmeric, and paprika. Season with pepper, to taste.
Cook for 3 minutes and serve.
Makes 2 servings
[peta-video youtube="O-D5WX-kEQU"]
For more awesome recipes, check out TheBuddhistChef.com.