Vegan
6 Ways to Make Easy Vegan Cheesecake (Video)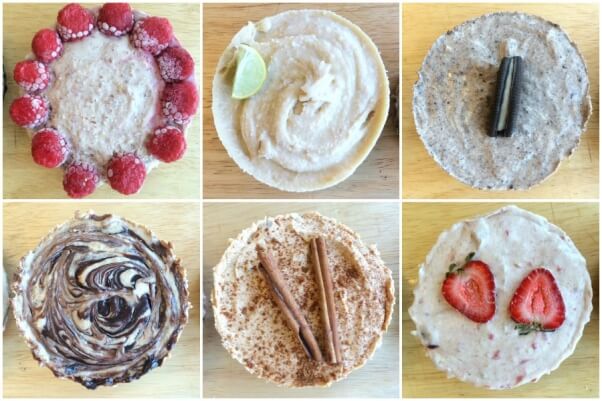 Print
Ingredients
Instructions
Preheat the oven to 325°F.
Prepare the egg replacer according to the package directions.
Add the cookies and softened margarine to a food processor and pulse until consistent. Transfer to a 9-inch pie pan, preferably a springform pan.
Using an electric mixer, beat the vegan cream cheese and brown sugar until soft. Stir in the vegan sour cream and one-third of the egg replacer at a low speed.
Beat another third of the egg replacer into the mixture, followed by sugar and mix until well combined. Add the remaining egg replacer and mix well.
Optional mix-ins:

1-2 Tbls. Raspberry preserves
1 Tbls. Key lime juice
1-2 Tbls. Strawberry preserves
1-2 Tbls. Pumpkin purée + 1/4 tsp. pumpkin pie spice
1-2 Tbls. Peanut butter + 1 tsp. chocolate syrup
2-3 Sandwich cookies, crushed (for a cookies 'n' cream flavor)

Pour the filling into the crust.
Bake for 45 minutes, then allow to cool. Refrigerate for at least 2 hours before decorating as desired, then enjoy!
Makes 6 to 8 servings
[peta-video youtube="GnIS7lTpBh8″]