Vegan
'Beef' and Orzo-Stuffed Peppers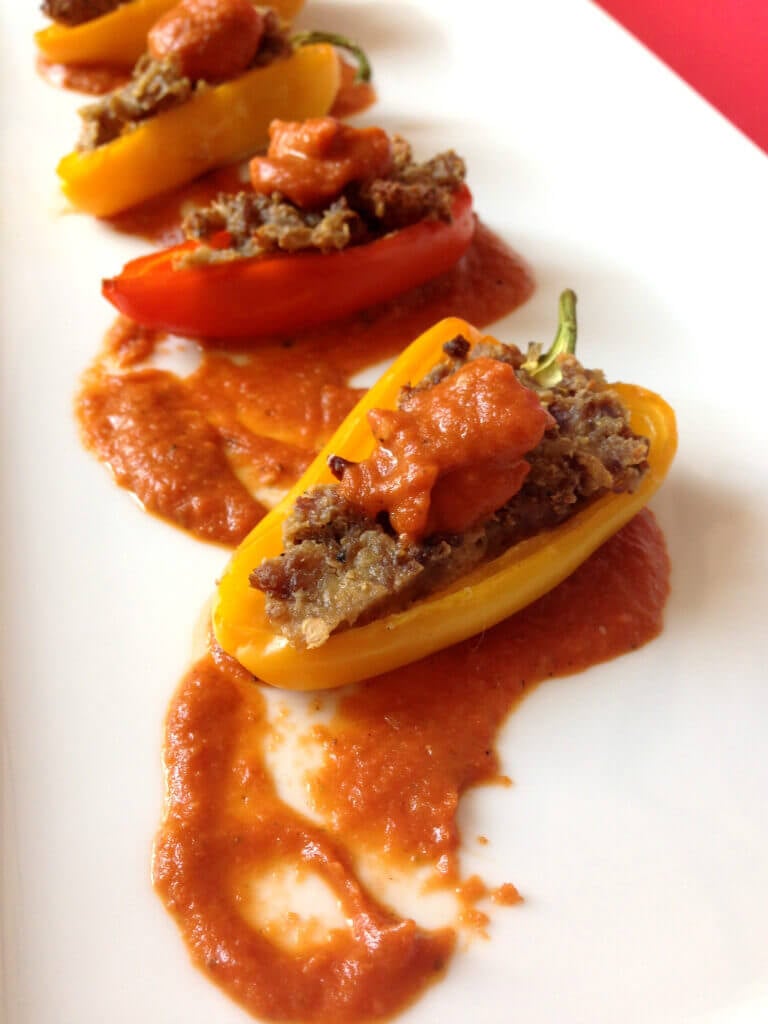 Print
Ingredients
1 cup

orzo pasta

4

peppers (green, orange, red, or yellow)

2/3 cup

tightly packed fresh parsley

1/4 cup

vegan parmesan "cheese"

2 Tbsp.

chopped walnuts

1 1/2 tsp.

dried basil

1 tsp.

salt, divided

1

clove garlic

1/4 cup plus 1 Tbsp.

olive oil, divided

12 oz.

vegan ground beef-style crumbles

1

medium tomato, seeded and chopped

1 12-oz.

jar tomato sauce
Instructions
Preheat the oven to 350°F.
Cook the orzo pasta according to the directions on the package. Drain and set aside.
Fill a large pot with water and bring to a boil. Cut the tops off the peppers (save them) and scrape out the insides, removing the seeds. Place the peppers into the boiling water, simmer for 3 minutes, remove from the water, and invert them onto a paper towel to drain.
Place the parsley, soy parmesan, walnuts, basil, 1/2 tsp. of the salt, and the garlic into a food processor and pulse until blended. With the food processor running, slowly add 1/4 cup of the olive oil and continue processing to form a smooth pesto.
In a large skillet, brown the beef-style crumbles in the remaining oil over medium heat. Stir in the orzo, pesto, the remaining 1/2 tsp. of salt, and the chopped tomato. Continue cooking, stirring frequently, until the mixture is heated through.
Pour the tomato sauce into an 8-inch glass baking dish. Fill the peppers with the "beef" mixture and place them into the baking dish. Put the pepper tops back on and bake for 20 minutes.
Makes 4 servings