Vegan
Easy Vegan Naan Pizza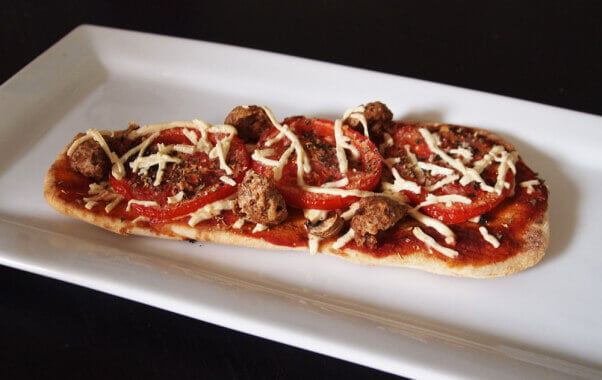 Print
Ingredients
1 piece

vegan naan (Indian flatbread)

2 Tbsp.

tomato sauce

1/4 cup

shredded vegan mozzarella

1/4 cup

chopped mushrooms

3

thin tomato slices

2

vegan meatballs, thawed (if frozen) and cut into small pieces

1 tsp.

vegan Parmesan

1/2 tsp.

dried basil

1/2 tsp.

dried oregano
Instructions
Preheat the oven to 350ºF.
Place the naan on a baking sheet. Spread the sauce evenly over the top, then sprinkle with half the vegan mozzarella shreds.
Add the mushrooms, tomato slices, and vegan meatball pieces, then top with the rest of the vegan mozzarella shreds. Lightly dust with the vegan Parmesan, basil, and oregano. (You can also swap out these toppings for your favorites!)
Bake for 25 minutes.
Makes 1 serving