Vegan
Avocado–Mint Chocolate Chip Ice Cream (Vegan + Gluten-Free)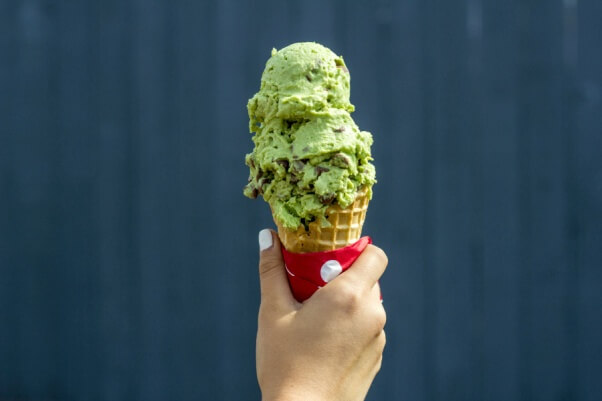 Print
Ingredients
1 can

full-fat coconut milk, chilled

3

large avocados, pitted

1 tsp.

lemon juice

Agave, to taste

Mint extract, to taste

1/4 cup

chocolate chips or 1/2 chocolate bar, shaved
Instructions
Without shaking it, open the can of coconut milk and scoop the thickened part into a bowl. (Set aside the remaining coconut water and use for something else.) Using a hand mixer, whip until fluffy, then transfer to a 9-inch-by-9-inch glass dish.
In a food processor, add the avocados, lemon juice, agave, and mint extract. Blend until smooth.
Place the avocado mixture on top of the whipped coconut cream. Add the chocolate chips or chocolate shavings and combine.
Cover with plastic wrap, making sure that there is no air space between the ice cream and the plastic wrap. Freeze for at least 2 hours.
Makes 4 to 6 servings