For Immediate Release:
August 10, 2022
Contact:
Megan Wiltsie 202-483-7382
New York – In time for peak whale-watching season, a whale entangled in a fishing net is making a splash on seven Staten Island ferries—and washing up on a mural banner in Whitehall Ferry Terminal and on the Zippertron over the ferry's loading doors—to remind tourists and residents that abandoned fishing gear kills 300,000 whales and dolphins annually. The new PETA appeal offers a solution: "Don't Eat Fish" and "Go Vegan."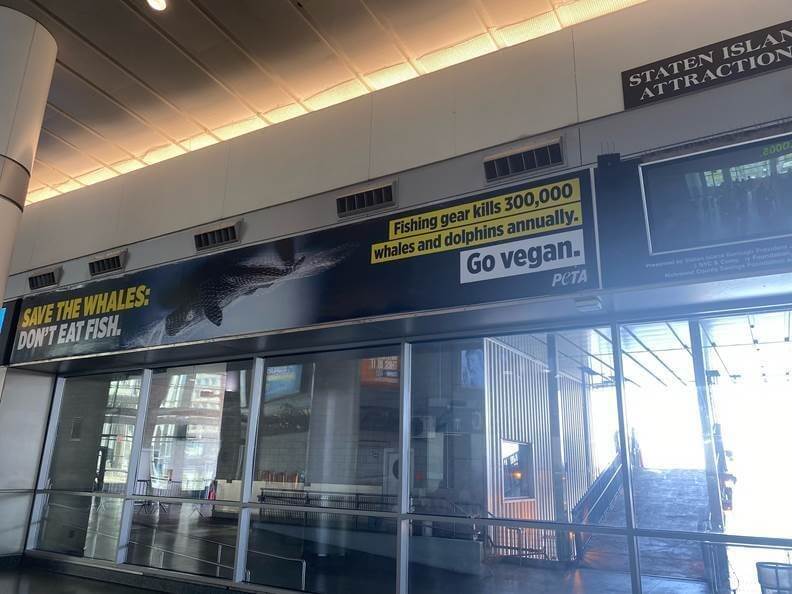 In the fishing industry, even whales are callously referred to as "bycatch," a euphemism for nontarget animals who get caught or become entangled in fishing gear and then are discarded or simply die. PETA notes that death by fishing gear is one of the biggest threats to the survival of many of the world's 86 cetacean species—including humpback whales, who increasingly frequent New York's waters and represent more than half of reported entanglement cases—and that eating fish contributes to the decimation of ocean ecosystems.
"By simply eating vegan, everyone can protect the growing number of whales visiting the city's surrounding shores," says PETA President Ingrid Newkirk. "PETA urges everyone to show compassion to all aquatic animals, large and small, by leaving sea life off their plates."
More fish are killed for food each year than all other animals combined. Fish feel pain as acutely as mammals, have long-term memories, and sing underwater—yet they're impaled, crushed, suffocated, dropped into pots of boiling water, or cut open and gutted, all while conscious.
PETA—whose motto reads, in part, that "animals are not ours to eat" and which opposes speciesism, a human-supremacist worldview—points out that many faux-fish options are available, including Gardein's F'ish Filets, Good Catch's Plant-Based Tuna, New Wave Foods' plant-based shrimp, and Sophie's Kitchen's Vegan Crab Cakes.
The message is running on 35 tall car cards across five boats, on wall murals aboard the Ollis ferryboat and the Sandy Ground ferryboat, and across the Zippertron and on a mural banner in Whitehall Ferry Terminal.
For more information, please visit PETA.org or follow the group on Twitter, Facebook, or Instagram.