For Immediate Release:
November 20, 2023
Contact:
Tasgola Bruner 202-483-7382
San Diego – Because experiments on animals at Charles River Laboratories, which has a facility in San Diego, are so gruesome that no TV station could possibly air them, PETA used CGI to create a new video that reveals—without showing any actual animals, gore, or blood—who pays the real price for pharmaceutical drugs tested on animals. But the FOX affiliate in San Diego is still refusing to run even this PG-rated animated video, calling it "too controversial" and "graphic in nature."
In the 15-second spot, a "customer" wants to know how much a prescription will cost—and a computer-generated monkey, tattooed with an ID number and wheezing through a breathing tube, has the answer: "Too much."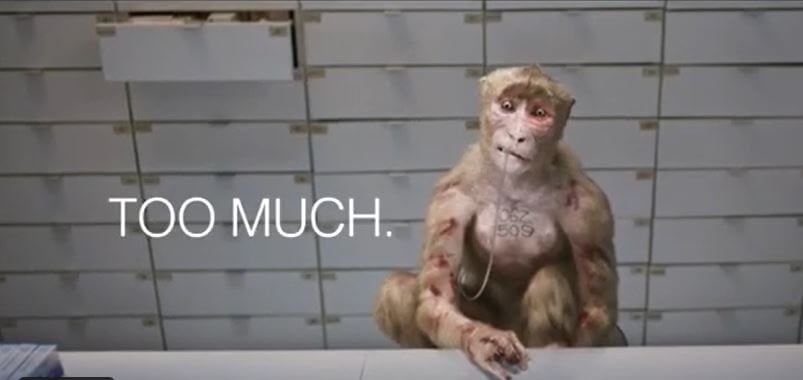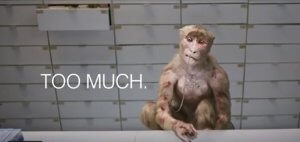 "If a computer-generated monkey is 'too much' for TV, imagine how consumers would react to seeing real footage from Charles River Laboratories, where animals are caged, mutilated, tormented, and killed for pointless experiments that don't benefit human health," says PETA Senior Vice President Kathy Guillermo. "PETA is rallying viewers to stand up against these real-life horrors and join us in calling on Charles River to pivot to sophisticated, human-relevant research methods."
Even though drugs that appear safe and effective in animal studies fail 95% of the time in humans, Charles River continues to imprison and torment animals for pharmaceutical and other tests. Charles River experiments on more monkeys—16,460 in 2022 alone—than any other company in the U.S. It's under civil and criminal investigation for alleged illegal monkey smuggling.
While the local FOX affiliate has refused to run the video, ABC San Diego will run it seven times this week during the morning and evening news and during Good Morning America.
PETA's motto reads, "Animals are not ours to experiment on, eat, wear, use for entertainment, or abuse in any other way." For more information, please visit PETA.org, listen to The PETA Podcast, or follow the group on X (formerly Twitter), Facebook, or Instagram.