Goalkeeper Calls On Fans to 'Find Yourself a Keeper at Your Local Animal Shelter' in New PETA U.K. Ad
For Immediate Release:
February 10, 2016
Contact:
David Perle 202-483-7382
London – Cuddling up to an adorable pup from London's Mayhew Animal Home, Irish international and West Ham United goalkeeper Darren Randolph shows off his softer side in a new PETA U.K. ad that encourages people to "find yourself a keeper at your local animal shelter." The campaign also stars Tia the dog—currently up for adoption—and emphasizes the importance of adopting animals from shelters and never buying them from breeders or pet stores.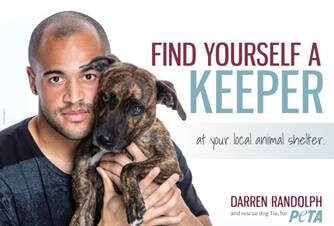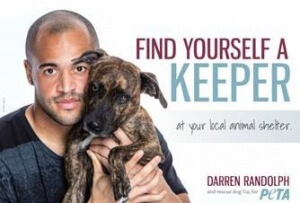 A high-resolution image of the ad is available here. Please credit Trevor Leighton.
"Dogs are great fun, and they bring a lot of happiness and joy into people's lives—but they are a lifelong commitment," says Randolph. "If you're ready for that, go down to your local shelter and check out some of the great dogs, like Tia, who are desperately waiting for a home."
Every year, animal shelters are forced to euthanize millions of homeless cats, dogs, and other animals for lack of good homes. Every time someone buys a kitten or a puppy from a breeder or a pet store, a dog or a cat in a shelter loses his or her chance at finding a home. That's why PETA—whose motto reads, in part, that "animals are not ours to abuse in any way"—urges people who are thinking of adding an animal to their family to visit a local animal shelter or rescue group.
Randolph joins a long list of athletes—including Brandon Flowers, Tony Gonzalez, Stevie Johnson, Tyrann Mathieu, Metta World Peace, Everton's Tim Howard, and Manchester United's Phil Neville, among many others—who have teamed up with PETA and PETA U.K. to promote kindness to animals.
For more information, please visit PETA.org.uk.