For Immediate Release:
November 20, 2023
Contact:
Moira Colley 202-483-7382
Los Angeles – Comedian and actor Sarah Silverman is standing up ahead of Thanksgiving dinner to show everyone that eating turkeys is no laughing matter in a new PETA message that urges everyone to give birds a break and enjoy a delicious "ThanksVegan" feast instead.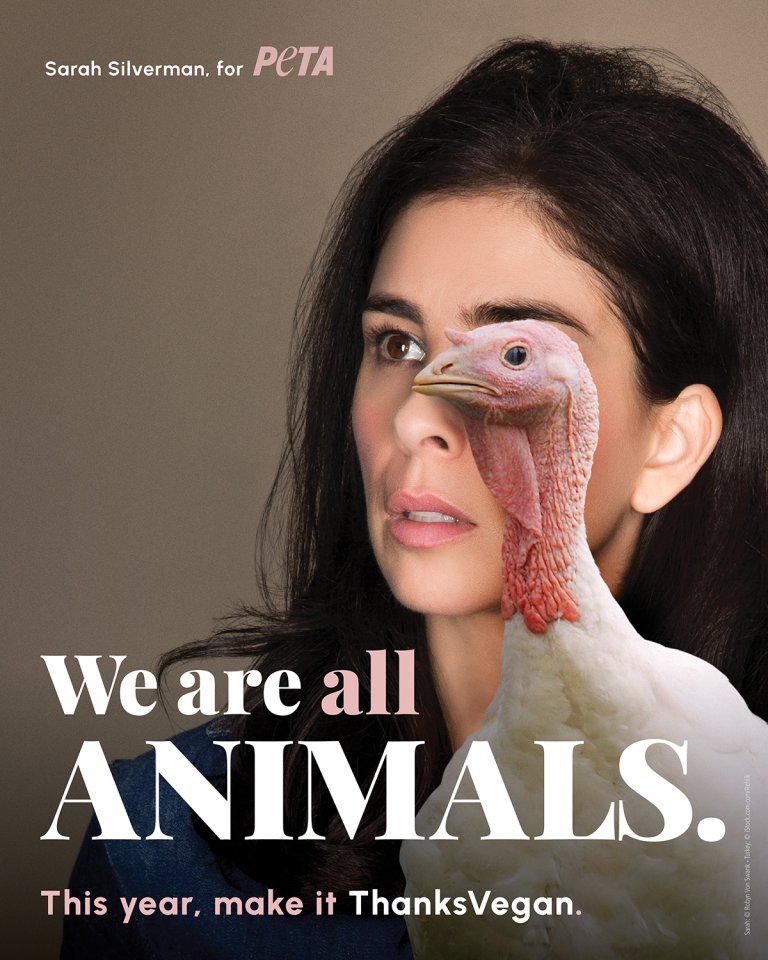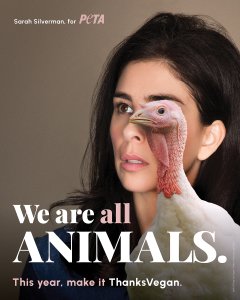 Robyn Von Swank
Silverman ditched meat when she was just 7 years old after her family visited a turkey farm to pick out their Thanksgiving dinner.
In an interview she recalled, "I saw a cute [turkey] with a silly walk and cried, 'Him!' Before my pointing finger had even dropped to my side, [the farmer] had grabbed the turkey by the neck and slit [the animal's] throat. Blood and feathers went flying. I had sentenced that turkey to death!"
Turkeys are intelligent and social animals who, in nature, spend their days caring for their young, building nests, foraging for food, taking dust baths, and roosting high in trees. Free-roaming turkeys can live up to 10 years, but those raised for food are normally slaughtered when they're between 14 and 18 weeks old. Each year in the U.S., approximately 46 million turkeys are killed for Thanksgiving. Workers hang the young birds upside down, drag them through an electrified bath, slit their throats, and dump them into scalding-hot water in defeathering tanks—often while they're still conscious.
In addition to sparing the lives of nearly 200 animals a year, everyone who goes vegan shrinks their carbon footprint and reduces their risk of suffering from heart disease, diabetes, cancer, and other ailments.
PETA's ThanksVegan guide is packed with recipes, cooking tips, and everything else needed to enjoy a delicious, turkey-friendly holiday.
PETA—whose motto reads, in part, that "animals are not ours to eat"—opposes speciesism, a human-supremacist worldview, and offers a free vegan starter kit on its website. For more information, please visit PETA.org, listen to The PETA Podcast, or follow the group on X (formerly Twitter), Facebook, or Instagram.