PETA Joins LAPD in Seeking Public's Help in Identifying Dog Killer
For Immediate Release:
May 25, 2016
Contact:
David Perle 202-483-7382
Los Angeles – On Saturday, May 14, around 1:30 p.m., an eyewitness reported seeing a small dog jump out of a van in the 1600 block of East First Street in Boyle Heights. The driver reportedly chased after the dog, punched him, and repeatedly slammed him onto the sidewalk until he died.
The dog's killer is reportedly wanted for felony cruelty-to-animals charges, but the Los Angeles Police Department (LAPD) has yet to make any arrests in this case. That's why PETA—whose motto reads, in part, that "animals are not ours to abuse in any way"—is offering a reward of up to $5,000 for information leading to the arrest and conviction of the perpetrator.
The suspect is described as a white man with balding gray hair, 50 to 60 years old, about 6 feet tall and weighing approximately 280 pounds, driving a 1996 to 2000 silver or gray Dodge Caravan with an off-color rear bumper. At the time of the incident, the van was carrying two bicycles on a rear bike rack.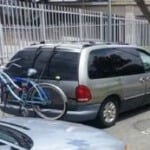 Courtesy of LAPD
"This little dog endured an agonizing, terrifying death when his head was bashed against the sidewalk by a disturbed and violent man," says PETA Senior Vice President Lisa Lange. "PETA is urging anyone with information about this man to come forward now so that he can be held accountable for his crimes and stopped from hurting anyone else."
According to law-enforcement agencies and leading mental-health professionals, perpetrators of violent acts against animals are often repeat offenders who pose a serious threat to all animals—including humans.
Anyone with information about this case should call the LAPD Animal Cruelty Task Force at 213-486-0450.
For more information, please visit PETA.org.