PETA Offer Comes After Dehydrated Boxer Is Found Abandoned With Chain Embedded in His Neck
For Immediate Release:
July 5, 2016
Contact:
Megan Wiltsie 202-483-7382
Adger, Ala. – On the evening of Monday, June 27, Jefferson County sheriff's deputies acting on a passerby's tip discovered a brown and white dog lying in a ditch along Johns Road in Adger. The boxer was severely dehydrated and had a chain wrapped so tightly around his neck that it had become embedded in his skin, leaving him with a deep, open wound.
The dog is recovering with the Greater Birmingham Humane Society (GBHS) Animal Care & Control, but police have yet to determine who is responsible for neglecting and abandoning him. That's why PETA is offering a reward of up to $5,000 for information leading to the arrest and conviction of the person or persons responsible for this crime.
"This dog likely endured immense loneliness and agonizing pain as he was apparently forgotten and left to rot with a chain around his neck," says PETA Vice President Colleen O'Brien. "PETA is urging anyone with information about this case to come forward immediately so that whoever is responsible for inflicting such misery can be held accountable."
PETA—whose motto reads, in part, that "animals are not ours to abuse in any way"—reminds guardians that dogs belong indoors with the rest of the family and should never be chained up alone in the yard, where they spend their entire lives eating, sleeping, and eliminating in the same few square feet of space. Dogs left alone outdoors are also defenseless, which makes them easy targets for thieves, dogfighters, and cruel people. In addition, chaining dogs—who are highly social pack animals—deprives them of social interaction, which can make them aggressive.
Anyone with information about this case is encouraged to contact the Jefferson County Sheriff's Office at 205-325-1450 or GBHS Animal Care & Control at 205-591-6522, extension 4.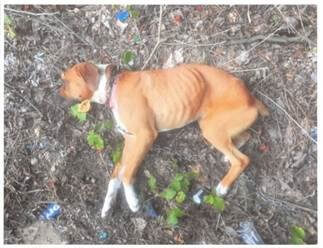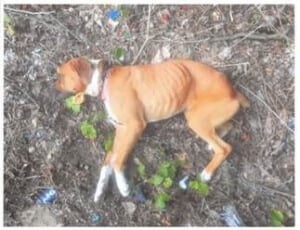 Photo courtesy of Jefferson County Sheriff's Office.
For more information about helping animals, please visit PETA.org.