Animal Stuck Deep Inside Underground Pipe System Is Safe and Recovering
For Immediate Release:
April 14, 2016
Contact:
Lakisha Ridley 202-483-7382
Kearney, Mo. – For officers' heroic rescue on April 6 of a baby fox who was stranded inside a storm drain, the Kearney Police Department will receive PETA's Compassionate Police Department Award. Responding to a call about noises coming from inside the drain, Sgt. Joe Kantola and officer JD Garton descended through manhole covers on opposite sides of the street and crawled through a 150-foot stretch of dark, narrow underground pipes to retrieve the baby fox trapped in the middle. After establishing that the fox's mother was not in the area, they took the wet, weak, and frightened animal to the local animal hospital, and he has since been transferred to a wildlife rehabilitation center, where experts will help him recuperate before returning him to the wild.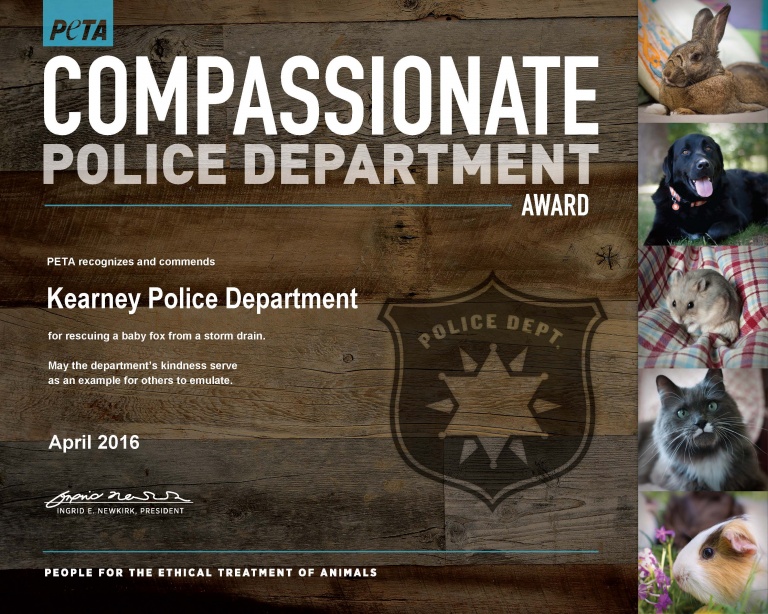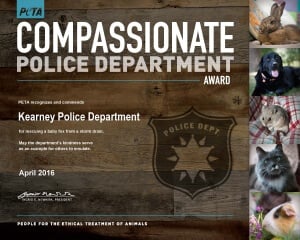 "These brave and determined police officers saved this baby fox from a terrifying, life-threatening predicament in which he had no food, water, or way out," says PETA Senior Director Colleen O'Brien. "PETA hopes this story will inspire others always to come to the aid of animals in distress."
PETA—whose motto reads, in part, that "animals are not ours to abuse in any way"—will send the Kearney Police Department a framed certificate and a box of delicious vegan cookies.
For more information about helping animals, please visit PETA.org.