First Responders Pull Animal From Burning House, Provide Oxygen
For Immediate Release:
April 19, 2016
Contact:
Lakisha Ridley 202-483-7382
Mulberry, Fla. – Courtesy of PETA, Polk County Fire Rescue will receive a Compassionate Fire Department Award for the heroic rescue of a guinea pig in Mulberry last week. What started as a small grease fire soon engulfed a home in flames. Polk County Fire Rescue quickly arrived, and when rescuers found the family's beloved guinea pig, Rodney, inside a smoke-filled cage, firefighter John Williams immediately rushed him outside, where rescue teams gave Rodney water and oxygen with a small mask usually used for babies.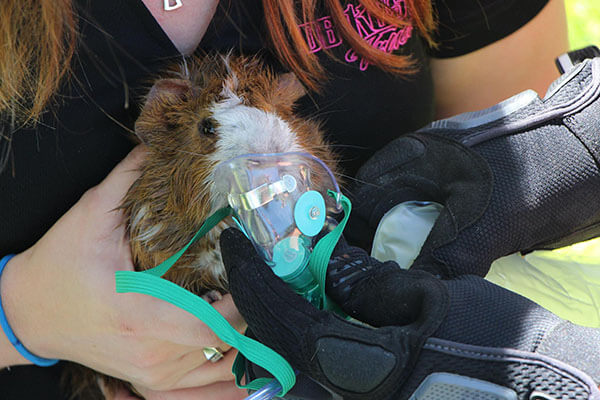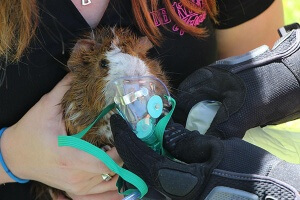 Photo from Polk County Government
"Whether it's people or animals, we do our best to protect them," Polk County Fire Rescue Public Information Officer Kevin Watler told PETA. According to a Facebook post by Rodney's guardian, he's now "[b]ack to his spoiled little self."
To thank the firefighters for their efforts, PETA is sending a framed certificate along with a box of delicious vegan cookies and a copy of The Engine 2 Diet—a Texas firefighter's 28-day plan to stay in top shape by eating plant-based meals.
"The kind, quick actions of these brave firefighters saved this guinea pig from a painful, terrifying death," says PETA Senior Director Colleen O'Brien. "PETA urges everyone to follow their example and always be a hero for animals in need."
PETA—whose motto reads, in part, that "animals are not ours to abuse in any way"—encourages all animal guardians to put a sign on doors or windows to alert rescue workers to the presence of companion animals. Families can order stickers from the PETA Catalog or make their own.
For more information, please visit PETA.org.