For Immediate Release:
August 22, 2023
Contact:
David Perle 202-483-7382
Arcade, N.Y. – After learning that the Budweiser Clydesdales, whose tailbones have been cruelly amputated, are scheduled to make an appearance this Friday at Tops Friendly Markets in Arcade, PETA sent a letter this morning to the supermarket chain's president, Ron Ferri, urging him not to host the disfigured animals.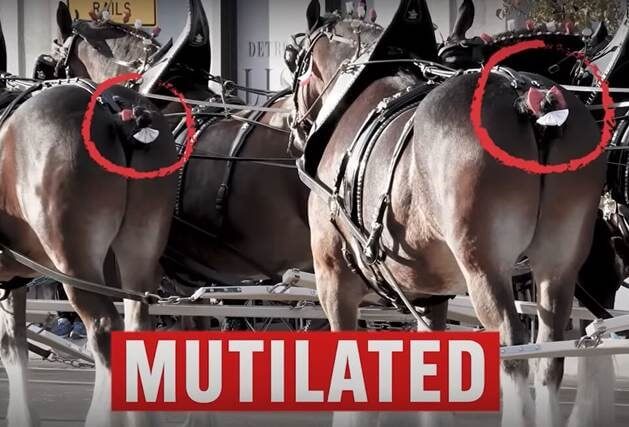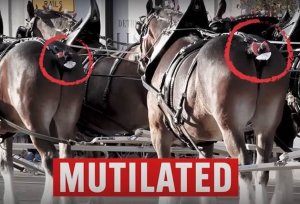 Disfigured Clydesdales hitched to a Budweiser beer wagon. Photo: PETA.
As PETA recently revealed in a damning video exposé, Budweiser has been severing the horses' tailbones—either with a scalpel or with a tight band that stops the blood supply to the tail, causing it to die and fall off—just so the Clydesdales will look a certain way when hitched to a beer wagon. Tailbone amputation for cosmetic reasons is condemned by the American Veterinary Medical Association and the American Association of Equine Practitioners and is illegal in 10 states and a number of countries.
"Horses need their tailbones, and cutting them off causes immense suffering, affects their balance, and removes their first line of defense against biting and disease-spreading insects," says PETA Senior Vice President Kathy Guillermo. "Budweiser disfigures horses to sell beer, and PETA is asking everyone in New York to tell the King of Tears to end the mutilation."
PETA—whose motto reads, in part, that "animals are not ours to use for entertainment"—opposes speciesism, a human-supremacist worldview. For more information on PETA's investigative newsgathering and reporting, please visit PETA.org, listen to The PETA Podcast, or follow the group on Twitter, Facebook, or Instagram.