PETA Calls for Nonviolence and Compassion for All Living Beings; Abusing a Pig to Hurt a Religion Is Doubly Disgusting, Groups Says
Following reports that a severed pig's head was dumped at the front door of a mosque in Québec City, PETA is suggesting a way to promote peace for every living being—regardless of religion, nationality, or species. In a letter sent today to the president of the mosque, PETA has offered to place a sign outside the building featuring images of peas arranged to represent different religious symbols—including the Muslim crescent and star, the Christian cross, the Jewish Star of David, and the Hindu Aum—next to the words "Give Peas a Chance. Go Vegan. Nonviolence Begins on Our Plates."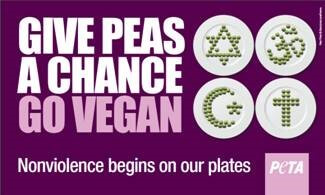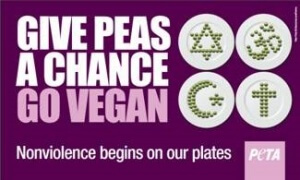 "Violence stems from a lack of empathy for others who are perceived as different and, therefore, can be abused," says PETA President Ingrid Newkirk. "PETA hopes to get people talking about extending respect to all living beings, because if we can relate to who's on our plate, we can certainly relate to our fellow human beings."
PETA—whose motto reads, in part, that "animals are not ours to eat"—points out that animals used for food experience joy, pain, fear, love, and grief and value their lives, just as humans do.
For more information, please visit PETA.org.
PETA's letter to Mohamed Yangui, president of the Islamic Cultural Centre of Québec, follows.
June 23, 2016
Mohamed Yangui, President
Islamic Cultural Centre of Québec
Dear Mr. Yangui,
On behalf of People for the Ethical Treatment of Animals (PETA) and our more than 5 million members and supporters worldwide, including thousands across Québec, we are so sorry to hear that a pig's head was dumped at the Islamic Cultural Centre of Québec. As vegans, we promote understanding and respect for all others, regardless of race, religion, gender, or species, and we reject hatred and gratuitous violence in all forms. To use an animal to get back at a human being is like using a child to get back at his mother.
May we suggest a gesture that could help promote a message of peace to the Québec City community—and perhaps even reach those responsible for this despicable act? PETA would like to place a sign outside the Islamic Cultural Centre building, which would promote respect and compassion for all. The artwork features images of peas arranged to represent different religious symbols, including the Islamic star and crescent, the Christian cross, the Hindu Aum, and the Jewish Star of David, and the text reads, "Give Peas a Chance. Go Vegan. Nonviolence begins on our plates."
The violence inflicted on the billions of animals who are tormented and slaughtered every year for food hinges on a simple lack of empathy for others who may appear unfamiliar and have different languages and customs—but who share with us the desire to live free of pain and fear. In today's meat industry, pigs, chickens, and turkeys experience terror when they're slaughtered; fish are left to suffocate on the decks of boats or cut open while they're still alive; and calves in the dairy industry are taken from their mothers within hours of birth.
Human beings of all nationalities and religions often feel powerless in the face of all the discrimination and violence in the world, yet every time that we sit down to eat, we can help stop suffering by choosing a nonviolent meal. While opting for a veggie burger or falafel instead of a chicken kebab or steak sandwich won't create instant global peace, it will reduce the sum total of suffering and can make people think about what more is possible.
Placing PETA's sign at the Islamic Cultural Centre building would be a simple way to promote peace, understanding, empathy, and compassion, and it could serve as a rebuke to the hateful act committed by someone who missed some of the most basic and important lessons in life. Thank you for your consideration.
Very truly yours,
Ingrid E. Newkirk
President