For Immediate Release:
August 1, 2022
Contact:
David Perle 202-483-7382
Virginia Beach, Va. – PETA is adding $4,000 to Virginia Beach Animal Control's $1,000 reward for information leading to the arrest and conviction of the person(s) responsible for abandoning a desperately ailing dog in Lineberry Park on Kings Point Road on Thursday, July 28.
In the early morning hours, animal control officers responded to a call from a passerby about the dog, who appeared to be a beagle-hound mix between 3 and 8 years old, and determined that his condition was so dire that he needed to be euthanized. The dog was suffering from two enormous tumors on his back, one of which had ruptured.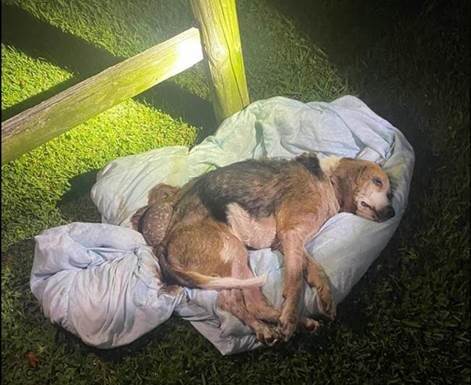 Virginia Beach Animal Control officers are investigating the case, and PETA is asking for the public's help to solve it. Would you please share this information with your audience? It may lead to a break in the case.
"This suffering dog needed urgent care and compassion, but instead, someone dumped him in a park and left him to suffer—scared, hurting, and all alone," says PETA Senior Vice President Daphna Nachminovitch. "PETA thanks the passerby who alerted authorities and urges anyone with information to come forward so that whoever neglected and abandoned this dog can be held accountable."
Anyone with information about this case should contact Virginia Beach Crime Solvers at 1-888-LOCK-U-UP (1-888-562-5887) or visit P3tips.com.
PETA—whose motto reads, in part, that "animals are not ours to abuse in any way"—opposes speciesism, a human-supremacist worldview. For more information, please visit PETA.org or follow the group on Twitter, Facebook, or Instagram.