For Immediate Release:
October 19, 2023
Contact:
Nicole Perreira 202-483-7382
Miami – A controversial PETA appeal that sparked a public outcry in the U.K. because it equates eating fish to eating cats is coming to the South Beach Seafood Festival on Saturday in the hopes that would-be attendees lose their appetites for sea life and opt for free Good Catch vegan tuna instead. The lenticular display shows a smiling fishmonger holding a limp fish from one angle and a dead cat from another.
When:    Saturday, October 21, 12 noon
Where:    At the intersection of Washington Avenue and Seventh Street, Miami Beach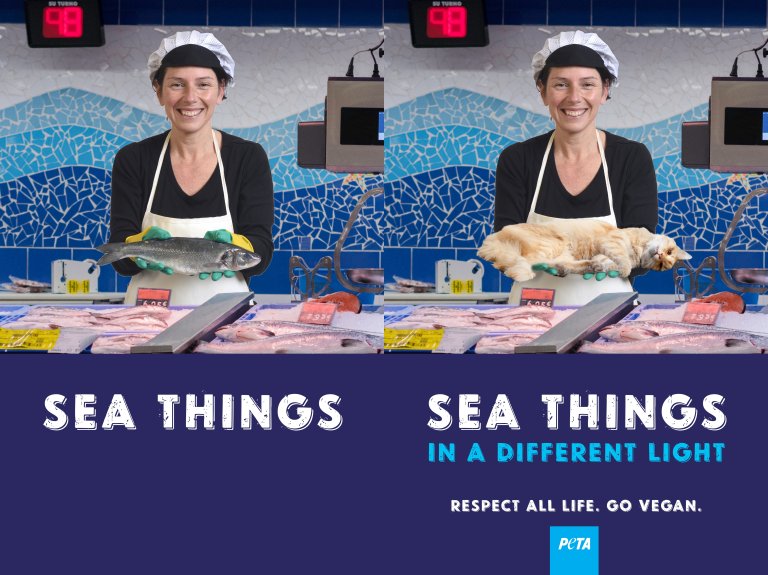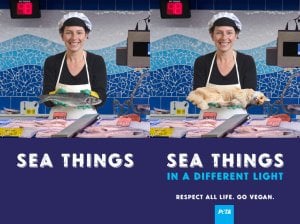 "Knowing that cats and aquatic animals both feel pain and have personalities makes vegan food the obvious, most appetizing choice," says PETA Executive Vice President Tracy Reiman. "PETA asks festivalgoers to sea things differently and leave all animals off their plates, whether they have paws or claws, fur or fins."
Fish feel pain, share knowledge, and have long memories and cultural traditions. Some woo potential partners by creating intricate works of art in the sand on the ocean floor, yet more fish are killed for food each year than all other animals combined. They're impaled, crushed, suffocated, or cut open and gutted—often while they're conscious. Every person who goes vegan spares the lives of nearly 200 animals each year.
PETA—whose motto reads, in part, that "animals are not ours to eat" and which opposes speciesism, a human-supremacist worldview—notes that many vegan fish options are available today, such as Gardein's f'sh filets, New Wave Foods' plant-based shrimp, and many others.
For more information, please visit PETA.org, listen to The PETA Podcast, or follow the group on X (formerly Twitter), Facebook, or Instagram.