For Immediate Release:
October 26, 2023
Contact:
Tasgola Bruner 202-483-7382
Washington – PETA has added another eight universities to a complaint to the National Institutes of Health (NIH) urging the agency to investigate all 22 taxpayer-funded schools that killed 25,000 animals deemed nonessential during COVID-19 pandemic laboratory restrictions.
The complaint now identifies Ferris State University, Montana State University, Penn State, Texas Tech University Health Sciences Center El Paso, Tulane University, the University of Georgia, the University of Wisconsin–Milwaukee, and West Virginia University as among the 22 schools that received over $9 million in taxpayer funding, only to kill "noncritical" animals en masse. The complaint includes new evidence supplemental to PETA's previous requests for an investigation.
The number of nonessential animals "should have been zero from the start," according to the federal government's "3Rs" principle of reducing, replacing, and refining the use of animals in experiments.
"Tens of thousands of animals died for publicly funded tests that were never carried out because experimenters admitted that they were unnecessary," says PETA Vice President Shalin Gala. "PETA is calling on NIH to investigate this massive loss of life and ensure that universities switch to superior, animal-free research."
Studies show that 90% of basic research, most of which involves animals, fails to lead to treatments for humans—yet NIH spends nearly half its annual budget on animal studies. PETA's Research Modernization Deal maps out a strategy for replacing the use of animals in experiments with human-relevant methods and presents the U.S. government's own evidence that 95% of all new medications that test safe and effective in animal tests fail in human clinical trials.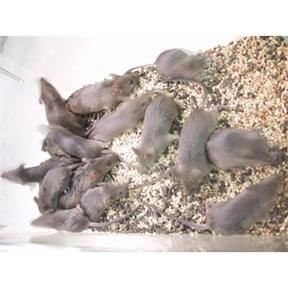 Brown mice crowd on top of each other in a small container. Photo: PETA
PETA—whose motto reads, in part, that "animals are not ours to experiment on"—opposes speciesism, a human-supremacist worldview. For more information on PETA's investigative newsgathering and reporting, please visit PETA.org, listen to The PETA Podcast, or follow the group on X (formerly Twitter), Facebook, or Instagram.