For Immediate Release:
September 5, 2023
Contact:
Tasgola Bruner 202-483-7382
Madison, Wis. – The University of Wisconsin–Madison is one of the five worst violators of federal animal welfare guidelines among schools with taxpayer-funded laboratories, according to a new study by PETA scientists presented at the 12th World Congress on Alternatives and Animal Use in the Life Sciences, in Niagara Falls, Canada.
The study's authors used federal reports to examine the 25 leading recipients of grants from the National Institutes of Health (NIH)—totaling over $9.5 billion—and documented 632 animal welfare violations in just a 41-month period. UW–Madison is responsible for 72 of these violations, for incidents that include one in which an infant marmoset died after a worker failed to return them, their sibling, and their mother to their "home" cage—leaving the trio without water overnight. In four separate incidents, mice were found to have been left without food or water, causing their agonizing deaths. Thirty-five zebrafish died after a worker turned off the water-flow lines connected to their tank and forgot to turn them back on. The school received $365,151,438 from NIH in 2022.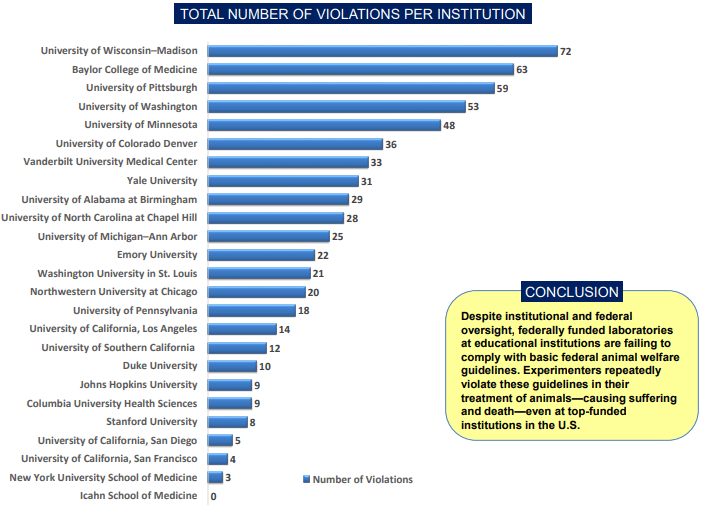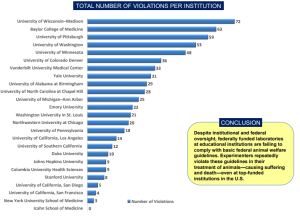 Under the Health Research Extension Act of 1985, institutions that receive funding from NIH must comply with federal animal welfare guidelines in their treatment of vertebrate animals.
"UW-Madison's failure to comply with the bare minimum of federal animal welfare guidelines illustrates the extent to which animals suffer in its labs," says PETA Vice President Dr. Alka Chandna. "PETA is calling on the school to modernize with more effective, non-animal research methods and to stop flouting the law while gobbling up hundreds of millions of taxpayer dollars."
The other top violators are the Baylor College of Medicine, the University of Pittsburgh, the University of Washington, and the University of Minnesota for incidents in which animals endured agonizing pain, injury, and death due to neglect, incompetence, and disregard.
At the 12th World Congress—the premier conference for scientists set on reducing and replacing flawed and archaic animal studies—PETA also provided practical roadmaps for ushering in 100% animal-free science and education with information on PETA scientists' Research Modernization Deal.
PETA—whose motto reads, in part, that "animals are not ours to experiment on"—opposes speciesism, a human-supremacist worldview. For more information on PETA's investigative newsgathering and reporting, please visit PETA.org, listen to The PETA Podcast, or follow the group on Twitter, Facebook, or Instagram.