For Immediate Release:
February 10, 2023
Contact:
David Perle 202-483-7382
St. Louis – As Budweiser celebrates the 90th anniversary of the "World-Famous Budweiser Clydesdales" with a new mural at the local Anheuser-Busch brewery, a PETA mobile mural will circle the spot during the Super Bowl to challenge the company's secret severing of part of the horses' spines for cosmetic reasons. PETA has just released a damning video exposé of Budweiser's cruel practice of severing the horses' tailbones or painfully cutting off the blood supply to the tail with a tight band, eventually causing it to die and fall off—all so the horses will look a certain way when hitched to the beer wagon.
Tailbone amputation for cosmetic reasons is condemned by the American Veterinary Medical Association and is illegal in 10 states. It causes immense pain, affects horses' balance, and removes their first line of defense against biting and disease-spreading insects.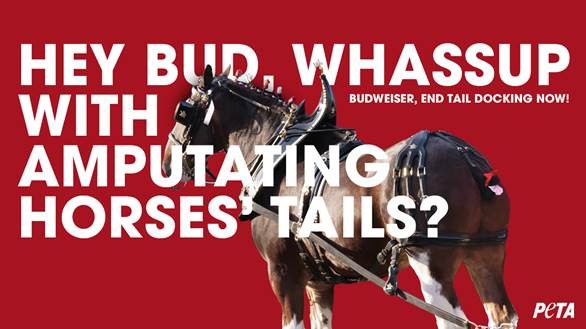 "Budweiser's shiny new mural can't hide the fact that the company has blood on its cans," says PETA Senior Vice President Kathy Guillermo. "We welcome anyone who wants to protect horses from cruelty to join PETA's push for Anheuser-Busch to leave the iconic Clydesdales' tails alone."
PETA's video reveals Budweiser and Anheuser-Busch representatives at their breeding and training facilities and at parades telling members of the public that the amputations are just a hair trim—but two admit to PETA's investigators that the tailbones are severed.
PETA's mobile billboard will circle the brewery at 1200 Lynch St. in St. Louis from 10:30 a.m. to 4 p.m. on Super Bowl Sunday before driving past popular bars in the area until 6:30 p.m.
PETA—whose motto reads, in part, that "animals are not ours to use for entertainment"—opposes speciesism, a human-supremacist worldview. For more information about PETA's investigative newsgathering and reporting, please visit PETA.org, listen to The PETA Podcast, or follow the group on Twitter, Facebook, or Instagram.