PETA Billboard Near Site of Fire Encourages People to Prevent More Animals' Deaths by Going Vegan
For Immediate Release:
August 13, 2020
Contact:
Megan Wiltsie 202-483-7382
Pilesgrove, N.J. – In memory of the chickens who died in fear and pain when a fire broke out at Red Bird Egg Farm in Salem County on July 20, PETA has placed a billboard nearby pointing out that if everyone were vegan, no birds would have suffered and died. Around 200,000 birds were killed in burning industrial-sized sheds, and 80,000 more died from suffocation and heat exhaustion after the power was lost and the ventilation fans to the sheds shut off.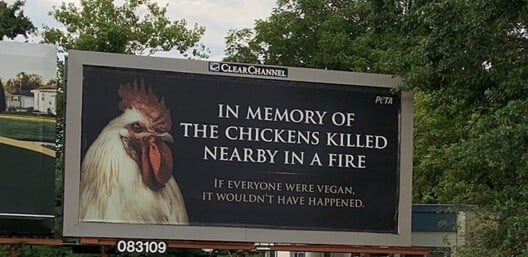 "If PETA's message of compassion inspires just one person to go vegan, good will result," says PETA President Ingrid Newkirk, who writes of the gentle nature, intelligence, and communication abilities of chickens in her book Animalkind. "PETA is ready and willing to help anyone make the transition to delicious vegan food and, by doing so, help stop cruelty to animals in barns and slaughterhouses."
Egg production farms cram hundreds of millions of hens into wire-floored cages with less living space than a sheet of paper for up to two years. A recent PETA investigation of a massive egg producer revealed that many hens died after becoming trapped by a leg, a wing, or their head in the wire-mesh flooring of filthy cages. When hens' bodies wear out and they're no longer considered profitable, egg producers stuff them into metal boxes and crudely gas them with carbon dioxide, which is extremely painful, or send them to slaughterhouses, where workers cut their throats, often while they're still conscious, and scald many to death in defeathering tanks.
The billboard is located at 100 West Ave. in Woodstown, 2 miles from the barn fire and just down the street from a McDonald's, a Wendy's, and other eateries.
PETA—whose motto reads, in part, that "animals are not ours to eat"—opposes speciesism, which is the human-supremacist worldview that other species are nothing more than commodities. For more information, please visit PETA.org.